Objavil/a
Ana Kos
, dne 2013-11-10 ob 12:55:28
Dobila sem novo hiško. Uredila jo bom tako, da bo postala domek.
V njej bo toplo. Kadar bo zeblo, bom zakurila ogenj. In naložila nanj polen.
Kadar bo zadušno, bom na stežaj odprla okna, da bo skoznjo zavel veter in prinašal dišave s pisanega vrta ob hiški in tudi iz gozda za njo. In s hribov in gor daleč zadaj.
V poletni vročini se bomo lahko hladili v senci vrta.
Želim si, da domek daje zavetje še komu, popotniku na poti skozi življenje. Naj posedi pri meni in kaj reče, če želi. Ali pa si samo oddahne in spočije utrujene noge ... in utrujeno dušo. Popije skodelico čaja. Poje pest malin, kadar so. Ali pa zdrobi par orehov in si s kosom kruha naredi potico.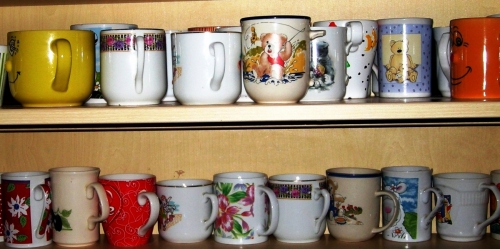 Čaj se že kuha. Izberite si skodelico. Kakšna nima "roča" (odtis življenja!), ampak pušča pa nobena! :-)
Zakaj ima moj domek ime Sol zemlje?
Zato, ker je sol nekaj dobrega in zelo uporabnega.
Celo nujnega za življenje, ampak ne smemo iti čez meje.
V vsakdanjem življenju je potrebujemo čisto malo. Samo kot dodatek. Ki naredi hrano boljšo. Kako se spominjam, ko ni bilo doma dovolj mleka, pa je mama prilila vodo in malo posolila ... in bilo je dobro! Ne bi si mislila, da smo pili razredčeno mleko, če ne bi vedela.
Soli je potrebno malo, a vendar prepoji vso hrano. Če jo le dobro premešamo.
Včasih je potrebno več soli ... da kaj shranimo. Da se ne pokvari.
Tako je tudi v življenju.
Sol so modrosti. Te naj prepojijo naše življenje. Ga delajo okusnega, užitnega.

Včasih moramo biti previdni s soljo. Če ima človek bolne ledvice, je potrebno dodajanje soli omejiti. Marsikomu je odveč - in to je razumljivo -, če mu kar naprej solimo pamet. Sploh če to dela človek, ki je brez pravega sočutja in poln objestnosti. Torej: preveč soli je kot preveč modrovanja. Ni okusno.

Prava modrost je tista, ki dela življenje resnično in polno.
Včasih potrebujemo več kot ščepec soli.
Morda v življenju kdaj potrebujemo kar kepo soli, kakšen "udarec", da ne skrenemo preveč iz resničnega Življenja, da ohranimo in rojevamo vredno (=polno) življenje ...
Kot sol prepoji vso hrano (ni prijetno, če ostanejo kepice soli skupaj) in je zato vsa okusna, naj tudi modrost in ljubezen prepojita vse, kar delamo in kar smo.
Dobrodošli v moji hiški!