Objavil/a
Ana Kos
, dne 2013-12-02 ob 18:11:32
Roženkravt!
To je starodavna rastlina, ki jo poznam od malega, saj smo jo vedno imeli doma, in ki sem jo videla v šopkih, ki so jih imeli ljudje v narodnih nošah (poleti sem videla na Poljskem naša romarja v slovenski narodni noši in s šopkom, v katerem je bil tudi roženkravt!). O, tisti mali dišeči šopki, ki so jih sestavljali nageljni, pelargonije in roženkravt! Sploh pa so rožmarin, roženkravt, pelargonija in lipa "slovenske" rože.
Nisem vedela, da latinsko ime roženkravta pelargonija - Pelargonium radens!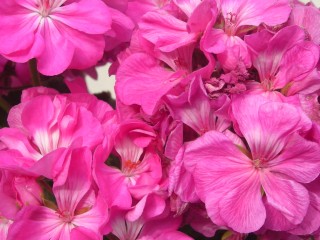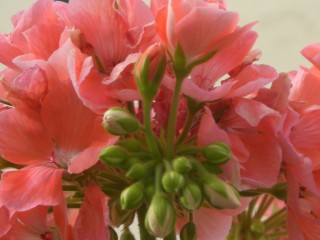 Pelargonija, ki pa ni roženkravt!
Roženkravt je rastlina trajnica, uporabljajo jo tudi kot cvetlico za okras na vrtu. Kot večina pelargonij izvira iz Južne Afrike, z ob­moč­ja Rta Do­bre nade. V Evro­po so ga pri­ne­sli leta 1774. To je vednozelena večletna rastlina, ki jo gojimo v loncih, čez zimo pa spravimo v ne zelo mrzel prostor, da ne pomrzne.

Neka stara gospa mi je povedala, da je včasih imela vedno pri sebi listke te rastline, kadar je šla kam, kjer je bilo veliko ljudi, listke je vohala proti slabosti.
Pri nas doma pa roženkravta nismo nikoli uporabljali, imeli smo ga le za okras ... o kako lepo je zadišalo, če smo butnili obenj!
Kakor zdaj vem, so so ljudje znali to rastlino uporabljati na različne načine, tako v kulinariki kot v zdravilstvu (pri napadih epilepsije in pri težavah s srcem - aha, to bi bilo lahko tisto proti slabosti).

S stališča gojenja ro­žen­kravt ni zelo zah­te­ven. Po­sa­di­mo ga lah­ko v gozd­no prst, ki jo po­me­ša­mo s pe­skom in ilo­vi­co, po­mem­bno je le, da je zem­lja brez ap­nen­ca. Rad ima ve­li­ko vla­ge.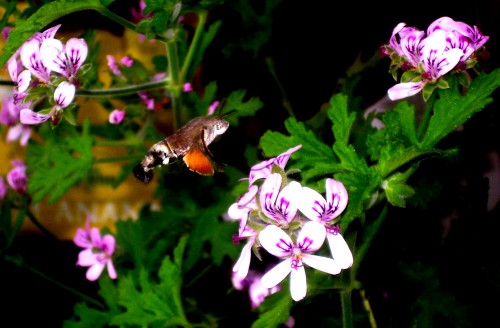 Velerilec
na roženkravtu, na našem balkonu!
Kulinarika: Sve­že li­ste lahko uporabljamo za odi­šav­lja­nje sad­nih so­lat, sla­do­le­da, raz­lič­ne­ga pe­ci­va in hlad­nih na­pit­kov. Ro­žen­krav­to­ve li­ste do­da­ja­jo tik pred kon­cem ku­ha­nja dže­ma ali že­le­ja, ki ga ku­ha­jo iz ja­bolk in ro­bid­nic. Do­da­ja­jo pa ga tudi v od­vra­ča­la za mr­čes – pra­vi­jo, da ga tudi ko­mar­ji ne ma­ra­jo.
Zdra­vilstvo: Včasih so roženkravt uporabljali proti na­pa­dom epi­lep­si­je in pri te­ža­vah s sr­cem (aha, to bi bilo lahko to proti slabosti).
Pred kratkim sem pa zvedela še za en dober učinek roženkravtovih listkov: Četrt listka dnevno prežvečiti je učinkovito domače zdravilo proti zvišanemu holesterolu. (Povedala mi je ena zelo stara gospa, ki sama uporablja roženkravt kot zdravilo proti holesterolu.)
To novico sprejmem še s toliko večjim veseljem (ne, nimam jaz težav s holesterolom), saj sem pred kratkim slišala o stranskih učinkih "uradnih" zdravil proti holesterolu (depresija).
Kako bolje je pogristi malo listka žive rastline, kot pa jesti neka zdravila iz laboratorija.
Priporočam vsaj poskusiti!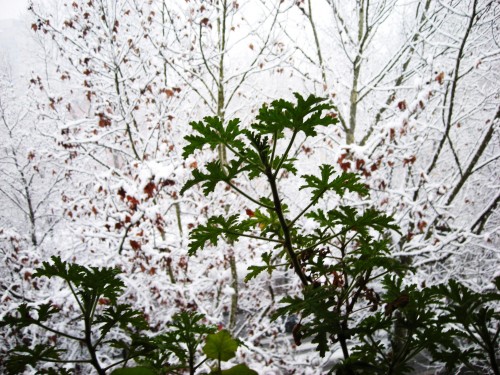 Roženkravt na zimskem oknu!