Objavil/a
Ana Kos
, dne 2014-01-05 ob 09:44:40
Večer pred svetimi tremi kralji (modrimi z Vzhoda) je Pehtrin večer.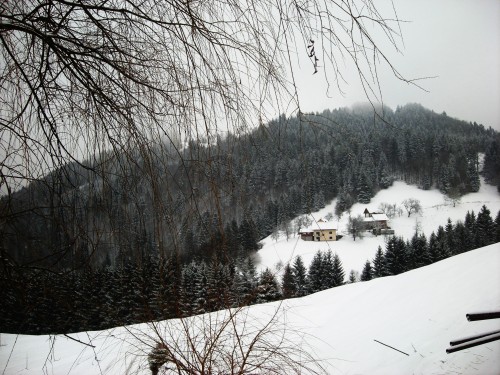 Tukaj
sem omenila Pehtro:

"Dan nedolžnih otrok je povezan s Pehtro, ki je skrivnostno bajeslovno bitje. Po poganski veri je v času dvanajsteronočja pod nebom vodila nepregledno množico otroških duš. To izročilo je bilo zelo živo in globoko zakoreninjeno."
Za konec skrivnostnih dvanajsterih ("volčjih") noči (to je čas, ko "staro" sonce odmre in se "novo" rodi - čas od božiča do praznika svetih treh kraljev), 5. januarja, se v naših alpskih krajih in v njihovi nemški soseščini podi ženska pošast, Pehtra, Pehtra baba, Pehtrna baba (Kranjska Gora), Pirta ali Perta (Soška dolina), Pjehtra baba, Pjahtra baba ...
Ponekod sicer to izročilo ni znano, pač pa poznamo bolj ali manj povsod

Pehto iz zgodb Josipa Vandota (1884-1944) o Kekcu.


O tem je 1851 prvič obširneje pisal Matija Majar Ziljski. Perhto je opisal kot grdo, hudo in strašno, v rokah ima burkle in sekiro, na ramah koš. Drugi kasneje omenjajo Vehtro babo ali tudi Zlato babo in ta je kraljica Belih žen.


Podobne pošasti imajo tudi drugi narodi

, Italijani poznajo Befano, Francozi Tante Airie. O podobnih ženskih bajeslovnih pošastih pripovedujejo tudi izročila v osrednji Aziji, Iran, Takžikistan, porečja rek Amu-Darja in Sir-Darja, gre torej za bajeslovno dediščino indoevropskih narodov ali morda kar Evrazije.


Vse te pošasti nastopajo sredi zime

, zato jim lahko lahko rečemo kar

Sredozimka

.
V starem izročilu velja

Sredozimka za voditeljico duš, predvsem duš umrlih otrok.


Sredozimko so poznali že "staroselci", Kelti in Iliri, ki so jih podjarmili Rimljani.
Ime, ki so ga uporabljali za Sredozimko Kelti in Iliri, ni znano, Rimljani so pa verjetno imeli Anno Perenno, Stari Grki Artemido ...

Slovansko izročilo je ob njihovi naselitvi prekrilo vse, kar je tu bilo prej podobnega.

Se pa je srečalo s podobnimi izročili prednikov današnjih Bavarcev in Tirolcev.
Tako se srečamo

na območju nekdanje Karantanije z najmanj tremi izročili

: s staroselskim (keltski, ilirskim in rimskim), slovenskim in bavarskim. Možno je, da so Slovenci to bitje imenovali samo Baba. Kasneje so verjetno dodali še nemško ime Sredozimke, ne da bi se odpovedali prvotnemu slovanskemu imenu in tako je nastalo ime Pehtra baba ali

Pehtrna baba.


Razen v alpskem delu Slovenije je izročilo zelo zbledelo. Ohranila je morda le

prvotno pogansko zavetništvo nad predicami in prejo

. Tako je dobila novo ime - Torka (v Selški dolini sem opazila ime vasice: Torka!), Torklja.
V Zgornjem Bohinju je bila Pehta dolgo časa le

strašilo za otroke

. Okoli Žirovnice na Gorenjskem poznajo Kromfljo,

skrivnostno teto, ki pride ob mraku k hiši, če otroci ne ubogajo

. Na Koroškem je

coprnica, dela točo

.
Tudi stalna rekla govorijo o Pehtri:
Le čakaj, te bo Pehta vzela! (namenjeno porednim otrokom - Bohinj)
Taka si kot Pehta! (slabo oblečena - Gorenjska)
Si kot Pehta! (hudoben - Komenda)

Na Pehtrin večer so npr. v Dovjem prišli našemljeni fantje v hišo, kjer so bili otroci sami doma. Pehtra baba je z Mežaklje hodila dol do Jesenic, šla je po hišah, pridne otroke je obdarila z orehi in krhlji, hudobne pa je z burklami pobila ali jim izvlekla čreva iz telesa.


Osebnost Sredozimke se občutno spreminja, najprej je bila bajeslovno bitje, potem coprnica, nato zeliščarica.


Sčasoma se je oblikovala

"vera", da do koder seže hrup zvoncev in vpitje kolednikov, tam je živina varna pred medvedom, tam ne bo volka ...


Šega se je oblikovala po različnih krajih v različne obrede in navade: Ponekod hodijo okrog, ponekod ne, ponekod se v Pehtro obleče fant, ponekod ženska, ponekod je Pehtra grda, ponekod lepa.

Ko prebiram

Praznično leto Slovencev

, 2. del (avtor

Niko Kuret

, založila Družina 1989), vir tega prispevka, ugotavljam, da so bili pred par desetletji nekateri ti običaji še živi. Kako neki je z njimi danes?