Objavil/a
Ana Kos
, dne 2013-12-28 ob 07:43:38
Za danes piše v koledarju: Nedolžni otroci.
Zame že od malega je to bil spomin na uboge otroke, ki jih je dal pomoriti kralj Herod. Kralj Herod namreč se je zbal za svoj položaj, ko je slišal, da se je rodil novi kralj. Ker ni vedel kaj natančnejšega, kje tega novorojenega kralja dobiti, je dal pobiti fantke v starosti do dveh let. Jezusa ni našel, njegova družina je bežala v Egipt (begunci, kako sodobno se to sliši!), tam so živeli do Jezusovih treh let oz. do smrti kralja Heroda. Potem so se vrnili na svoj dom v Nazaret. (Matejev evangelij, 2. poglavje)
Današnji dan se imenuje tudi tepežni dan (pametiva), vendar ima tepežkanje čisto drug izvor. Cerkev je poskusila razne obrede spraviti v okvir cerkvenih praznikov.
Niko Kuret v Prazničnem letu Slovencev (2. knjiga) pravi, da ni bilo vse prav posrečeno.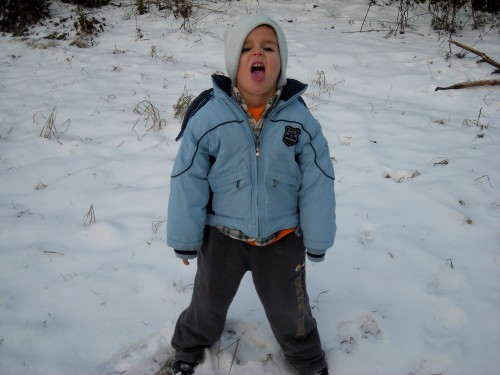 Pa poglejmo malo v zgodovino tega običaja:
Prvotno je bila to fantovska navada, tepli so dekleta, tudi svoje dekle - z namenom, da bi bila plodna, kajti vsepovsod je veljala rodovitnost za največjo vrednoto. Roditi otroke je bila ženina častna naloga in hkrati odlika. Ponekod so bila dekleta vsa lisasta od udarcev. (Danes to o rodovitnosti ne velja več vsepovsod, velja pa še vedno pri preprostejših ljudstvih.)
Otroško tepežkanje izhaja delno iz te fantovske šege, ki počasi izumira, delno pa ima otroško tepežkanje zelo stare svoje korenine.
Kako naj bi udarec s šibo prinašal rodnost? Kako naj bi posredoval življenjsko moč?
Gre za neko magično dejanje, za nek čar. Gre za udarce s "šibo življenja", tepli so ženske, samice domačih živali in sadno drevje (po W. Mannhardtu). Najstarejša omemba tepežkanja je iz Nemčije (8. stoletje).
Življenjska moč, ki jo hrani rastlina, naj bi prešla na človeka, ki se ga dotaknemo. (Isti pomen imajo tudi krašenja domov z zimzelenim rastlinjem, božični drevešček, cvetnonedeljska butara.)
V Srednji Evropi se je tepežkanje uveljavilo na dan nedolžnih otrok (Innocentes), o tem zgodovinskem zločinu sem pisala na začetku tega prispevka.
Dan nedolžnih otrok je bil vsaj v 10. stoletju še neznan. Cerkev je imela poseben razlog, da ga je uvedla.
Je povezan s Pehtro (bom napisala tudi o Pehtri, 5. januarja), ki je skrivnostno bajeslovno bitje. Po poganski veri je v času dvanajsteronočja pod nebom vodila nepregledno množico otroških duš. To izročilo je bilo zelo živo in globoko zakoreninjeno. Pa mu je Cerkev skušala dati vsaj na videz krščanski smisel. V sprevodu duš so bile duše nekrščenih otrok in otrok, ki so doživeli "krst krvi" (pobijanje Herodovih vojakov).
No, in potem so še tepežkanje naravnali na ta datum. Na dan nedolžnih otrok. Tukaj pa, pravi Kuret, ni bilo najbolj posrečena poteza Cerkve, saj je prvotni namen tepežkanja skušala zamenjati s pedagoškim in krščansko-etičnim smislom.
Tako so že v 12. stoletju v samostanskih šolah na ta dan s šibami tepli učenci svoje učitelje, če jih le-ti niso ubogali.
Prvotni poganski pomen se ni izgubil. Izgubil se je pa šolski okvir in tepežkanje se je preneslo iz šol ven. Tako so se pridružili starejšim fantom, ki so ohranjali svojo mnogo starejšo šego.
Tako tudi danes tepežkanje pomeni voščilo zdravja in dolgega življenja.
Različna imena tepežkanja: rodivanje (Prekmurje), otročje (zahodna Štajerska in vzhodna Koroška), pame(t)iva (vzh. Štajerska, del Gorenjske in Notranjske), Herodeževo (Mursko polje), tepežni dan, tepežka, tepežnica (del Štajerske, Kranjska), otopov(i)ca (Blejsko in Bohinjsko), otepnica (Pohorje), šaplja, šapeljca, šapanje (Koroška - Rož, Zila), šapanje (Kanalska dolina). Goriška in Beneška Slovenija tega običaja ne poznata.

O tepežkanju sem poizvedela v 2. delu Prazničnega leta Slovencev (napisal Niko Kuret, Družina, Ljubljana 1989). V svojem življenju se nisem nikoli srečala s tem običajem, čeprav naj bi po Niku Kuretu tudi v mojem okolju iz otroštva obstajala ta navada.