Ste že slišali za besedo medij ali medialne sposobnosti ali o njih brali? Medij je oseba, ki je posebej občutljiva za okultno in služi kot posrednik, kanal med tostranstvom in svetom duhov. Tokrat je za naš portal spregovorila Taisha, ki se že vrsto let ukvarja z alternativo.
MEDIJ TAISHA ali SODOBNA ČAROVNICA
"Že vrsto let delam kot m.d. (a.m) – doctor of medicin (medicina alternativa), medijski svetovalec in terapevt. Jasnovidnost, medialnost, vedeževanje in moja sposobnost videti v prihodnost je predispozicija, ki se deduje v naši družini že nekaj generacij. Medialnost in tradicija mi omogočata natančne odgovore in napovedi na vaša vprašanja v zvezi z ljubeznijo, prijateljstvom, zdravjem, kariero…

Pri svojem delu sem uspešna, saj sta moja moč in kvaliteta plod poglabljanja, študija in večnega iskanja. Na prvem mestu pa empatična, topla, človeška razlaga, ki med vrsticami ne vsiljuje lastnih prepričanj. Moje opazovanje sveta ima sedaj drugo razsežnost, drug pristop. Občutek pravega življenja, vidnega je v meni kot močna svetloba, ki briše mentalno temo.
V prihodnosti je skrito upanje in za prihodnost se porajajo sanje. Prihodnost je naš konstruktorski atelje, je zmešnjava realnega in racionalnega. Je naš čarovniški kotel in naša božja dimenzija ustvarjanja. Prihodnost se bliskovito seli v sedanjost, ki je edina izvrševalna dimenzija, zaradi katere uživamo ali trpimo. Obsojeni smo na linearnost časa, štejemo svoja leta, da umeščamo v svet svoje sanje. Da določamo datume uresničitve ter da spominjamo in pozabljamo. Ni moj namen tolažiti, še manj strašiti ali pa buditi lažna upanja. Želim samo pripraviti prostor, kamor boste lahko namestili svoje sanje. Dati vam drugačno morda bolj realno dimenzijo. Preprosto želim pomagati, da boste čim bolje izkoristili svoj čas.
Dolgoletni študij in intuicija mi omogočata, da odkrivam neodkrite sposobnosti soljudi in da skupaj tlakujemo pot v boljšo prihodnost
Samo tisti, ki pozna svojo usodo, se lahko reši težav na svoji poti.
MEDIJI ‒ STOPNJE
Kadar govorimo o medijih in njihovih »zmogljivostih«, moramo razlikovati med različnimi stopnjami sposobnosti in močmi.
1.stopnja ‒ Oseba čuti prisotnost nekoga –je ne vidi in ne sliši.
2.stopnja ‒ Oseba sliši zvoke in občuti vonj, ki nimajo razlage.
3.stopnja ‒ Oseba sliši prisotnost nekoga in ob istem času sliši zvoke/vonjave.
4.stopnja ‒Oseba čuti zvok/glasove, vidi sence in slabo svetlobo in občuti prisotnost nekoga.
5.stopnja ‒ Oseba občuti dotik, sliši glasove/zvok, vidi sence in občuti vonj in hitro spremembo temperature v prostoru.
6.stopnja ‒ Oseba sliši znotraj sebe glasove/vidi umrlo osebo v popolnem izgledu, takšno, kot je bila v času življenja in lahko z njo komunicira.
Ne znam razložiti, zakaj je nekaterim ljudem dano da imajo močnejše ali slabše medialne sposobnosti.
Če bi mi pred časom nekdo rekel, da ni možnosti dotika iz 4. dimenzje, bi se popolnoma strinjala z njim, ker tudi sama nisem verjela v to, dokler se mi to ni zgodilo v času maminega umiranja in njene smrti in še sedaj lahko zaznam njen dotik. Zdaj verjamem. Ni potrebno biti skeptik in verjeti da medij vidi umrlo osebo (oz. njen duh) v podobi, ki jo je oseba imela v času življenja in ne zgolj kot senco.
Torej, medij lahko postaneš samo z rojstvom ali preživetjem klinične smrti, kjer ostajajo odprta vrata v druge dimenzije. Na svetu je veliko medijev med navadnimi ljudmi vendar so njihove spodobnosti v spečem stanju.
Medialnost in medij nima nikakršne veze z bogom, vero, religijo,cerkvijo ali čimerkoli v tej smeri.
MEDIALNOST ‒ KAKO JO ZAZNAMO?
Eden od zanesljivih karakterističnih znakov za medialnost prisotnost neke entitete iz druge dimenzije ‒ 4. dimenzije. Spremlja jo kurja koža in zbadanje, ki gredo od tilnika po hrbtenici. Pri vstopu pojave se lahko pojavi občutek, ki je podoben tistemu, kadar se ostrižemo na kratko, pa nam nekdo z roko gre v nasprotni smeri rasti las.
Najbolj skrivnostna in najbolj čudežna oblika medialnosti pa so sporočila umirajočih ljudi, njihovo »oglašanje« . Zdi se, kot da ima človek, ki je v smrtni nevarnosti in umirajoči človek še posebno sposobnost za to, da se »prikaže« svojim bližnjim – da jim odda zadnje sporočilo, izreče zadnje slovo.
Ne morem se ubraniti občutka, da je bilo moji materi dopuščeno, da pride k meni, da bi me pripravila na šok.
Brezštevilni čudeži – mnogi med njimi so dobili naravno razlago – so šli mimo nas. Z njimi smo prestopili prag okultnega. Le majhen korak in znajdemo se sredi njegovega skrivnostnega kraljestva.
ODSTIRANJE TANČICE PRIHODNOSTI
Vas muči problem?
Imate težave v službi, doma ali v ljubezni?
Ne najdete pravega partnerja?
Ste se znašli na razpotju in ne veste, v katero smer bi nadaljevali pot?
Če ste vsaj na eno od zgoraj navedenih vprašanj odgovorili pritrdilno, potem ste na pravem mestu. In to ne po naključju, kajti naključij v življenju ni. Vse se dogaja z namenom. Kakšen je namen, ki tiči za vašim problemom, usodo ali trenutno situacijo?
Pokličite 090 60 16 (1,99Eur/min) ali osebni obisk 041/743 500 in pomagala vam ga bom prepoznati.
MEDIALNO SVETOVANJE – POGLED V PRIHODNOST SKOZI ZATEMNJENO STEKLO
Ljudje so zmeraj hoteli pogledati v prihodnost na tak ali drugačen način, da bi se lažje znašli v svoji sedanjosti. Zaradi človekove omejenosti je razlaga prihodnosti velikokrat težka in negotova ‒ kot pogled v prihodnost skozi zatemnjeno steklo (intuitivna teorija). Pri tem je vsaka kultura za napovedovanje prihodnosti razvila svoje metode in razlage.
Medijalno svetovanje ni zgolj napovedovanje prihodnosti. Je veliko več kot to. Nudi vpogled v preteklost, sedanjost in prihodnost, saj si svojo prihodnost ustvarjamo z našim delovanjem v sedanjosti in preteklosti.
Kakšna bo vaša prihodnost?
Obstajajo zakonitosti, ki krojijo usodo vseh nas. Naše misli, čustva, občutki, dejanja vplivajo na to, kako živimo. Ali se jih zavedate? Ali ste sposobni najti vzrok težav, ki se pojavljajo v vašem življenju?
Z orodji, kot so karte (ciganske karte, tarot karte, Cosmos itd.), numerologija, astrologija (horoskop, branje natalne karte…), branje iz dlani, rune ali drugi domači pripomočki (domine, kocke, fižol, kava itd.) vam pomagam odkriti vzrok težav in vam osvetliti pravo pot v prihodnost.
Svetovanje poteka na različne načine. Lahko se dogovorimo za osebni obisk ali po telefonu 090 60 16 (1,99Eur/min)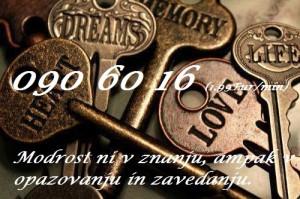 Čas je, da odkrijete, kaj vas ovira na poti do vaših ciljev. Zakaj bi po nepotrebnem tratili čas in energijo z nepomembnimi stvarmi? Spoznajte, kaj je prava pot in ji začnite slediti že danes.
ODKRIJTE NAJGLOBLJA SPOROČILA
Vedeževanje, jasnovidnost, prerokovanje, šloganje iz kart, kavne usedline ali run… vsem je skupno eno. Pomagajo vam odkriti globlja sporočila, do katerih sami ne najdete poti.
Vstopamo namreč v druge dimenzije, v katerih prostor in čas nimata več pomena. Tukaj imamo dostop do širšega vpogleda in znanja, ki ga vedeževalec ‒ medialna oseba z zelo razvito jasnovidnostjo, uporabi, da lahko osebi, ki potrebuje pomoč ali išče nasvet, pomaga.
Jasnovidnost ni magija. Je notranje zaznavanje in videnje tistega, kar je skrito fizičnemu očesu. Je eden izmed kanalov intuicije – jasnočutnost, jasnoslišnost, jasnovednost.
NIKAR NE OKLEVAJTE ‒ SPOZNAJTE VAŠO PRIHODNOST ŽE DANES
Prihranili boste čas in denar in stopili iz nevednosti. Samo tisti, ki pozna svojo usodo, se lahko v prihodnje pravočasno izogne težavam na svoji poti."
Medialno svetovanje:
090 60 16
Naročila:

041/743 500