Tokrat bom pisal o nesnagi. Toda ne o zunanji nesnagi, temveč o notranji nesnagi. Govoril bom tudi o izpostavljanju takšne nesnage v nekaterih posameznikih, med tem, ko se tisti, ki kažejo s prstom, izogibajo prepoznavanju in odstranjevanju svoje lastne nesnage. In govoril bom tudi o politiki. Tam ima notranja nesnaga še posebej velik vpliv na družbo. Za iztočnico bom vzel fotografijo, posneto očitno na protestih, ki točno pove, kaj si je nekdo zamišljal.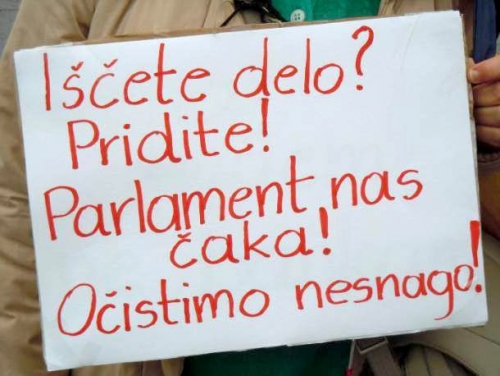 Tukaj se najprej omenja delo, oziroma iskanje dela. V povezavi s tem je tudi sedanja problematika pomanjkanja dela. No, v bistvu pa to ni povsem točno, kajti dela je vedno več kot dovolj. Gre predvsem za plačano delo. Za delo, ki prinese denar. Kajti denar je postal naš motivator, saj brez njega lahko celo umremo od lakote, če ga imamo na pretek, pa lahko dosežemo kar koli. Ljudje torej ne iščejo niti dela, niti denarja, temveč zadovoljitev svojih potreb ter izpolnitev želja. In seveda imamo trenutno sistem, kjer se lahko zadovolji lastne potrebe samo, če delaš in potem za to delo prejmeš plačilo. Trenutno pa je naše gospodarsko stanje takšno, da se ne omogoča vsakemu dovoljšnja količina dobro plačanega dela in posledično si ljudje ne morejo zadovoljiti svojih potreb. Marsikdo ne vidi druge rešitve, kot da gre na cesto in med protesti kaže s prstom na politike kot na odgovorne za njihovo stanje.
Problem kazanja s prstom na nekoga pa je v tem, da je en prst usmerjen navzven, štirje pa so usmerjeni navnoter in kažejo na tebe. V tem je velika modrost. Kajti malokdo se zaveda, koliko bi lahko sam storil za to, da bi se razmere v družbi izboljšale. Večina ljudi zadovoljuje zgolj svoje potrebe po ugodju in za druge oziroma širše družbeno stanje se ne zmenijo, dokler se oni sami osebno ne znajdejo v pomanjkanju. Ampak takrat je že prepozno. Koliko je takšnih, ki v času izobilja aktivno namenijo presežek prostega časa in denarja za izboljševanje samega sebe in tega sveta? Vidimo lahko, da jih ni veliko. Pa vendarle so razmere v času izobilja najbolj ustrezne za najtežje delo, za čiščenje notranje nesnage. Znana psihoterapevtka Byron Katie je svojo metodo zato poimenovala enostavno Delo. (The Work)
Znotraj nas je velika nesnaga, ki pa je očem skrita in se kaže skozi naše delovanje na tem svetu. Posledica naše notranje nesnage je zunanja nesnaga. Ta planet smo zasvinjali že do skrajnih meja, večina rek ni več pitnih, morja so polna plastike, zrak nasičen z izpušnimi plini. In vse to je posledica naše notranje nesnage, naših umazanih, smdečih in nagnusnih mislenih vzorcev. Lastno gnilobo neprestano potiskamo v podzavest v upanju, da bo kar nekam izginila. Podobno počnemo z odpadki. Odvažamo jih nekam izven dometa našega pogleda in zasipamo z zemljo v upanju, da bodo čudežno izginili. Ampak mi se glede tega hudo motimo. Tako kot zakopani odpadki zastrupljajo našo podtalnico in zemljo, podobno neozaveščeni iluzorni miselni vzorci zastrupljajo našo notranjost. S proizvajanjem hipnih energijskih čustvenih reakcij uničujemo našo vodo, zastrupljamo kri, blokiramo delovanje notranjih organov, in potem se čudimo odkod se kar naenkrat pojavijo bolečine in bolezni.
Naše telo je kopleksen organizem, sestavljen iz miljard celic. Vsaka celica telesa je kot državljan, ki teži k temu, da se zagotovijo njegove potrebe. In mi smo predsedniki te države, vodje parlamenta. Ali smo odgovorni politiki našega telesa? Ga poslušamo povsem skrbno in zadovoljujemo njegove potrebe? Ne! Zanemarjamo ga, izkoriščamo ga in pustimo ga propadati. Zelo slabi politiki svojega lastnega telesa smo. In potem si drznemo še kazati s prstom navzven, na druge ljudi in jih delati odgovorne za naše življenje. To je res povsem neodgovorno. Če hočemo torej izboljšati razmere na svetu, če hočemo očistiti nesnago tega sveta, moramo čisto vsi najprej pričeti znotranj. Tako kot za službo in zabavo, si moramo vzeti čas tudi za temeljito očiščevanje naše notranjosti.
Dela je več kot dovolj. In nikakor ne potrebujemo novih izdelkov, ki se bodo pokvarili že čez eno leto in postali odpadek, čaka nas delo samoizpopolnjevanja. Namesto vse večjega izkoriščevanja tega sveta in vse hitrejšega proizvajanja potrošniških stvari, bi bilo bolje vložiti naše delo v čim večjo zagotovitev dostojnih življenjskih razmer za vse ljudi, živali in rastline. Naj ne bo merilo našega uspeha količina predmetov ali obseg zemljišč, ki so naša last, naj ne bo odraz našega dela čim večja kopica denarja, temveč pričnimo meriti naš uspeh s količino zadovoljnih, srečnih ter izpolnjenih živih bitij na tem planetu.
V povezavi z napisanim priporočam poslušanje naslednjega audio posnetka:
Reptilians - The Obvious Secret - Reality or Illusion - Part 18