Lažnivcem ni mesta v javnem (proračunsko financiranem) sektorju države Slovenije?

Protest proti GEOINŽENIRINGU - SPREMINJANJU BIVANJSKIH POGOJEV na ZEMLJI s strani velesil, 27.9.2014.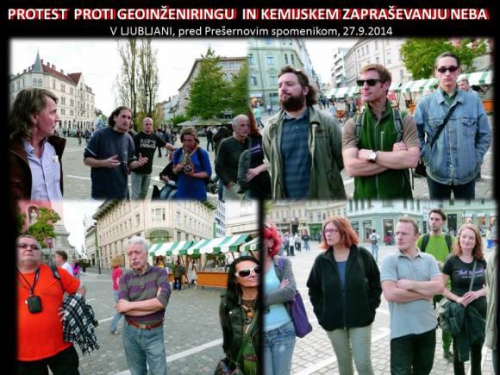 Dne 27.9.2014 smo imeli skromen protestni shod pred Prešernovim spomenikom v Ljubljani. Protest je bil del Globalnega marša, ki se je odvijal v več kot 140državah sveta in spreminja svet.
VREME pa je že boljše.
Na dan shoda ni bilo zapraševanja, po dolgem času predah
.
Po dnevu shoda pa je bil najlepši dan letošnjega poletja, dopoldne brez oblakov, popoldne pa že zapraševanje. Bomo videli. Bodo te sledi, ki so se pojavile v zadnjih letih zgodovina ali še hujša prihodnost?
Ker o svetovnem dnevu protesta proti GEOINŽENIRINGU naši mediji niso poročali – točneje so dogodek ZAMOLČALI, nas ni bilo veliko, dobrih 20, točno ob 16. uri pa še manj.
Toda prišli so pravi. Posnetih je bilo tudi več izjav ter komentarjev, spregovorili so praktično vsi, ki so prišli naokrog, nekatere pa je ujela tudi kamera.
KEMIJSKO ZAPRAŠEVAVANJE, SEVANJA, MEDIJI - PROGRAMIRANJE OSEBNOSTI, PROTEST 27.9. 2014
KEMIJSKO ZAPRAŠEVAVANJE, SEVANJA, MEDIJI - PROGRAMIRANJE OSEBNOSTI, 27.9.2014
Slovenska vlada še ni priznala ZAPRAŠEVANJA STRATOSFERE nad Slovenijo. Torej DRŽAVLJANOM LAŽE IN jih ZAVAJA!? HARP TEHNOLOGIJA SO TUDI MOBILNI TELEFONI, BAZNE POSTAJE, (DELOMA), CELO VARČNE ŽARNICE (VSE TO SPREMNJA VOLJO POSAMEZNIKA V "PUTER"). /blog/meteor/novosti/80115, http://www.publishwall.si/vladislav.stre
s
SVETOVNA METEOROLOŠKA ORGANIZACIJA je uradni zastopnik OZN na področju vremena, podnebja in voda. Oglejmo si del njihove izjave: »"Kljub trditvam, da je geoinženiring razprševanja stratosferskih aerosolov poceni in enostaven, obstajajo resni tehnični problemi, saj noben geoinženiring sistem ni bil dodelan ali dokazan. Pri raziskavah in vsakem razreševanju se morajo spoštovati načela Oxford (Rayner et al, 2013.). Geoinženiring se mora nadzirati kot javno dobro na način soodločanja javnosti pri odločitvah geoinženirjev. Razkritje geoinženirng raziskav in rezultatov odprto javnosti, neodvisne presoje vplivov se morajo zgoditi še pred razprševanjem…« Vir: http://www.wcrp-climate.org/JSC35/docume
nts/WMO%20Statement%20on%20Geoengineerin
g%202.pdf
V ČILU in BRAZILIJI udeleženka shoda, ki je ta živela ni zapazila zapraševanja neba (Chemtreilov). Tako je Nataša Božič povedala: »Ko sem prišla 2012 pa sem opazila zelo velik kontrast.«
Vse korporacije delujejo tudi z bremenom KREDITNE ODVISNOSTI. Kdor kontrolira kredite, kontrolira letalske družbe. Ugotavljali smo da ključni nizkocenovni prevozniki velikokrat ne morejo zapreti finančne konstrukcije svoje dejavnosti, kot kaže se ukvarjajo še z DODATNO DEJAVNOSTJO – ZAPRAŠEVANJEM. To dokazujejo kemične sledi, ki so razvidne pri njihovih letih. Prostor za prtljago se e pred leti nenavadno SKRČIL.
Ali se človek lahko proglasi za boga in ureja nebesne pojave npr. VREME, ko ni sposoben urejati niti pozicije ELEKTRONA? Ničesar ne zna v dokončnem definirati. Vsa naša znanost je približek! Znanost je dandanes proglašena za absolutum. Upam da bomo dokazali samozavest in zahtevo, da je svet takšen, da bo primeren tudi za naravo in za nas same. Ne pa da pristanemo na logiko popolnih sužnjev in robotov. So moje izjave, ki se jih povedal tudi v kamero.
Slovenska vlada obstoj programov GEOINŽENIRINGA – preurejanja vremena in pogojev na ZEMLJI ne priznava.
Ne priznava niti to, da se, predvsem v zadnjem letu nad Slovenijo izvaja intenzivno zapraševanja STRATOSFERE. OZN priznava da ti programi obstajajo in deli nasvete, da se posegi lahko zvršijo samo s sodelovanjem javnosti...
Na podlagi dejstev sem mnenja da
glede zapraševanja neba slovenska oblast slovensko javnost zavaja.
Govoričenje da se nam dogajajo samo običajni vremenski pojavi in da iz izpušnih ceiv avionov v vseh preletih prši zgolj vodna para, je LAŽ - žal.
MEDIJI, ki so pod njeno kontrolo (iz naslova donacij in medijskega lastništva), torej skoraj vsi večji, pa se iz drugače mislečih posmehujejo. Evropski
KOMISAR ZA OKOLJE Janez Potočnik
pa
ni storil javno znanega koraka, da bi zadeve raziskal in problem strokovno pojasnil in ga razrešil z zahtevo visokih okoljskih standardov.
Tudi zanj ta tema sploh ne obstaja. S tem pa je naredil hudo malomarnost in izjemno hudi škodo prebivalcem v okviru delovnega mesta KOMISARJA ZA OKOLJE EU, ki ga opravlja še do 1.10.2014.
SVETOVNA METEOROLOŠKA organizacije priznava obstoj programov ZAPRAŠEVANJA neba… in preko nje tudi OZN.
VIR
PDF verzija
K A Z A L O