MINE ARBITRAŽE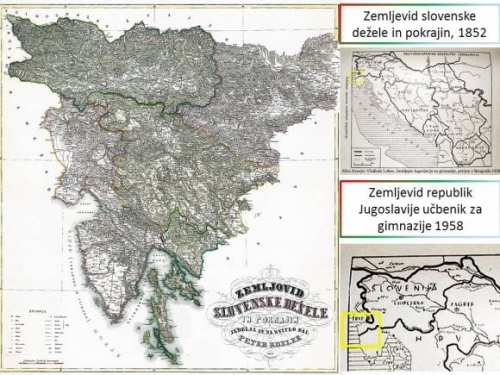 Miroslav Slana - Miros: "Izgubili smo našo južno mejo zato ker vse do danes ni bilo politične volje, da se zadeva uredi, niti ob osvoboditvi, niti ob osamosvojitvi 1991.
In zakaj je tako? Zato ker so nekateri tudi današnji liderji sveto malikovali nekatere liderje glavne politike. Na Hrvaškem je bil to Krajačič, pri nas Maček, Tomšičeva pa še kdo…

ARBITRAŽA skuša doseči to da bi se meja potegnila v Piranskem zalivu. Od kod ljubi Bogec. Meja je bila vedno na Mirni. Nikoli ni bila Hrvaška.
Ko sem zbral vsaj za 900 strani resnih eseističnih vsebin, sem prav za prav videl, da me vsi zavajajo. Zato sem se vrnil nazaj na južno mejo in ugotovil naslednje. Prvi, ki so delovali zoper to česar sem se lotil, torej za prikrivanje informacij o južni meji, so bili pripadniki Udbe. Ti so odtujevali podatke, ki sem jih pridobil, jih izgubljali. A jaz sem raziskovanja nadaljeval in ugotovil sem da bi morala biti Arbitraža postavljena na reko Mirno. Potem bi bila ta arbitraža smiselna. To kar pa je sedaj v Piranskem zalivu pa je farsa, nedržavotvorno izigravanje Slovencev in Slovenije in je pravzaprav HUDODELSKO DELO ZOPER DRŽAVO. Tisti vezni členi, ki delujejo zoper to, da bi se odkrila resnica so v bistvu tako nedržavotvorni, da bi jih morali takoj IZLOČITI in na naše vladna in državna mesta postaviti prave Slovence ne oziraje se na to ali so ti levi ali desni (čeprav prave levice niti desnice več nimamo) ki bi bili pošteni Slovenci, ki bi bili sposobni Slovenci in bi te meje končno uredili. Kati mi ne moremo postati Palestina brez svojega ozemlja.
Knjigo dobite TU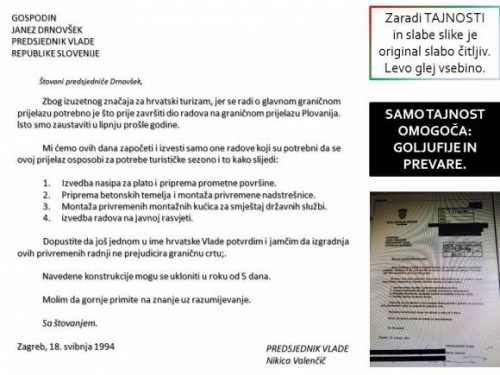 Diana C. Letos sem šla na morje k prijateljici, ki ima vikend v Zambratiji. Sliši se kot kakšna vas v Afriki, zato me je zanimalo, od kod to čudno ime. Pa sem našla turistično tablo, na kateri je pisalo, da je bila zemlja, na katerem je kasneje zrasla majhna vas, v socialistični Jugi pa so jo pokupili Slovenci, tako da sem jo krstila za južno "slovenačko more", last plemiča Zambrattija iz Kopra. Ko sem malo razmislila, se je zdelo logično, ko sem pa vprašala domačina, katero mesto jim je najbližje, je rekel Kopar. In ko zdaj gledam te zemljevide... nisem pravnik, ampak nekaj močno smrdi, verjetno po tako imenovanem bratstvu in enotnosti. Ti kraji so polni priseljencev iz notranjosti Hrvaške...

Andrej G: Meja, ki jo je Slovenija 'prinesla' s seboj v kraljevino SHS je potekala po vzhodni strani Istre kot so omenjali gornji komentarji. Do konca druge svetovne vojne in še leta po njej Istra ni bila nikoli Hrvaška



R.R.: Za vse govnarije, pa smo krivi prav mi državljani, ker si nikogar od vseh teh odg. oblastnikov ne upamo poklicati na odgovornost, sankcioniramo, obtožimo in zapremo bando, če je to potrebno!... Res smo teleta, da nam ni para, pravi bedaki!
Ni čudno, da se nam vsi posmehujejo, tudi Hrvati, ki nas kradejo kar naprej in to že od leta 1952, ko so jim takratni oblastniki Kardelj in Dolanc prepustili pol Istre!
Iz leta v leto je našega teritorija manj!..., zakaj!..., ker imamo ves čas na oblasti bedake, postavimo jih tam pa sami, kot smo pred kratkim ponovno Pahorja, ki je zjebal že vsega več kot preveč!..., to smo mi naivni "Slovenceljni"..."



Simon Č:
- meja se je MENDA premaknila neke noči 1956 (?), ko je Bakarić poklical Kardelja, ta pa je brez ugovarjanja flegma pristal na njegovo videnje "pravične meje". Ob tem se zastavlja vprašanje, zakaj nas je Kardelj prodal brez upiranja. Odgovor je MENDA v tem, da je bil Kardelj tako zaverovan v idejo enotne Jugoslavije, da so mu bile republiške meje povsem nepomembne.
- kljub temu dogovoru 1956 (?) je dokazano dejstvo, da naj bi uradna meja med republika obstajala na Mirni vsaj še 1958 in 1960 (oba priložena zemljevida) Ampak !!!! …
- potem se je zgodil 26.12.1990 in 25.6.1991, naši politični predstavniki pa se v teh pol leta vprašanja nerešene meje, ki so jo Hrvati vse od omenjenega nočnega telefonskega pogovora potuhnjeno pomikali od Mirne prosti Piranskemu zalivu, ni nihče lotil, čeprav je hrvaška tiha okupacija že presegala vse razumne mere, saj se ta ni ustavila niti na piranski katastrski meji (op1), ampak takrat nedoločeno že nekje med grebenom (op2) nad zalivom in Dragonjo.
- Kljub temu, da takrat še ni bilo interneta, so nekateri pokončni ljudje našli način, da so našim odgovornim politikom – Peterletu, Kučanu, Drnovšku, zastavili vprašanje, kdaj se bojo končno začeli s Hrvati pogovarjati o meji. Odgovor vseh je bil, da je treba biti do Hrvatov obziren in razumevajoč, zato se bomo o tem z njimi pogovarjali po koncu vojne. Pa se nismo.
- oni pa so že med vojno postavitev ZAČASNIH obmejnih carinskih kontejnerjev spremenili v obliko TRAJNIH objektov !!!!
Naši politiki pa še vedno NIČ !!!! Ne takrat, ne naslednjih 20 let !!!! grumpy emoticon>:( Joras je vsa ta leta ostajal osamljen borec za našo mejo, ob tem pa se mu je posmehovalo še pol Primorcev."

Matjaž K: "Tam okoli leta 1973 sem bil na morju v Savudriji v železničarskem domu, kjer je teta prek sindikata zrihtala apartmaje. V tistih časih so vsi lokalni prebivalci vozili avte s Koprskimi tablicami, v lokalih in trgovinah so govorili Slovensko, po opravkih so hodili v Piran in Koper, zaloge hrane so bile od slovenskih proizvajalcev, pila se je Cockta in lizal sladoled Lučka. Ko smo bili naslednje leto na morju v Novigradu, smo pili Lero in lizali Ledo, očetje pa pili Karlovačko. Kje so sedaj tisti avtohtoni prebivalci, da se ne oglašajo? Če Hrvati trdijo, da je ta zemlja njihova, naj dokažejo s pogodbami, kdaj so jo kupili. Ne razumem tudi odločitve arbitrov. Temelj za določanje meje bi moralo biti lastništvo. Tak temelj, kot pa so hrvaške zemljiške knjige, prirejene in spisane leta 1994 pa ne morejo biti verodostojna listina."

p.s.:
V skladu s sistemom onemogočanja dostopa do ključnih informacij pismo predsednika hrvaške vlade seveda ni javno objavljeno: KLIK za iskanje po spletu



K A Z A L O