Danes 5.1.2018 je Narodni muzej zaprosil avtorja filmov predstavitve nove stalne razstave narodnega muzeja Slovenije Klemna Zbačnika, da naredi popravke v svojih filmih. Zato jih je umaknil. V vmesnem obdobju, da jih posodobi, si lahko ogledate spodnjega, ki sem ga ravnokar naložil.

Sam nastopam v dveh, v tretjem in deloma v četrtem delu. V tretjem delu Zgodba iz železnodobne Vaške situle, Vladislav Stres, neodvisni raziskovalec s kateri razpolagam je narejen intervju izključno z menoj. V njem na podlagi razstavljene nove strokovne risbe, razložim poved na Vaški situli.


https://www.youtube.com/watch?v=6utNAerJ
Ntg
Zakaj je pomembno, da smo 21.12. 2017 dobili novo strokovno risbo Vrča Vače oz. latinsko situle?
- Zato ker je to podlaga vseh študij, ki obravnavajo Vaško situlo (točneje VRČ) oziroma se dotikajo tematike staro keltske kulture, ki jo stroka opredeljuje z izmišljenim pojmom Halštatska.
- Zato ker je podlaga vseh protokolarnih daril replik.
- Ker je podlaga za izdelavo osebnih izkaznic in potnega lista...

Tega, da gre za novo, tretjo zapored, strokovno risbo ne povedo, razen če se jim postavi točno takšno vprašanje, kot je bilo npr. na novinarski konferenci 20.12.2017.

Vrč Vače ima izjemno kvalitetno ohranjeno slikovno pisavo in je najlepše ohranjena poved starega keltskega ljudstva, ki je živelo pri nas cca 6 stoletje pred novim štetjem. Situla Cerosa, ki je prav tako izjemno lepo ohranjena, je namreč nastala, ko so se izvirni rituali že zaključevali. Iz upodobitev situli Certosa, ki je bila najdena na današnjem področju Italije se namreč vidi vojaški spopad dveh nasprotujočih se elit. Na Vrču Vače oboroženih vojščakov ne vidimo.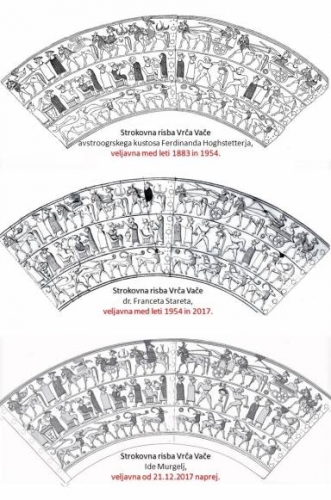 V Narodnem muzeju so mi pisno že januarja 2016 obljubili, da bodo objavili kvalitetne fotografije Vaške Situle iz vseh strani, še danes jih niso. Po letu in pol pregovarjanj so naredili novo strokovno risbo, a kot da se sramujejo te pomembne novosti. Objavljena je tako v katalogu kot razstavljena na cca 4 metre široki freski ob kopiji Vrča Vače v posebej oddeljenem prostoru stalne razstave. Toda tega dejstva javnosti ne sporočajo. Seveda se tudi nikjer ne zahvalijo, da sem jih opozoril na napake. To so sicer storili, ko so bili intervjuvani s strani novinarja Slovenskih novic.

V Narodnem muzeju razstavljajo kopijo situle za katero TRDIJO, da je original.

Na spletni strani NMSja posvečena Vaški situli je danes 5.1.2018 še vedno STARA strokovna risba. Sliko nov dobite tu.

Skrivna so pota ČUDAKOV.


K A Z A L O... UMETNOST

___
dodano 6.1.2018, komentar na zrvcalni objavi na RTV MMCju

vŕč -a m (ȓ)
1. trebušasta posoda z ročajem, navadno ožjim grlom in dulcem, zlasti za nalivanje: napolniti vrč z vodo; glinast, lončen, steklen vrč / vrč za vino
● knjiž. vrč hodi toliko časa po vodo, dokler se ne razbije človek toliko časa počne kaj slabega, nevarnega, dokler mu kaka nezgoda tega ne prepreči
// vsebina vrča: izpiti vrč vina
2. večji kozarec z ročajem: piti iz vrča
AJMAR=vêdro -a s, mn. tudi védra (é)
1. navadno kovinska posoda z ročajem: spustiti vedro v vodnjak; nositi, zajemati vodo z vedrom / vedro za premog; vedro za smeti
● lije kakor iz vedra zelo, močno dežuje
♦ teh. vsaka od posod na brezkončni verigi bagra, elevatorja za zajemanje (sipkega) materiala
// s prilastkom količina kake tekočine, snovi, ustrezna taki posodi: porabili so več veder barve; v peč je zmetal pet veder premoga
2. nekdaj prostorninska mera, navadno za tekočine, od 30 do 60 l: kupiti vedro vina; sod drži deset veder (sskj)


Vladislav Stres 2.
Rogati. Hvala. Preberi kaj si napisal (prepisal iz Slovarja slovenskega jezika): "navadno ožjim grlom in dulcem". Posebej preberi besedo navadno. To pomeni, da ni bilo vedno tako.

Potem se ozri na svoj prepis: VEDRO »nekdaj prostorninska mera, navadno za tekočine, od 30 do 60 l«
Posebej bodi pozoren na besedo nekdaj. Meniš, da je tudi nekdaj vedro tako majhno, da je šlo vanj cca 3 litre tekočine? Vaška posodica je visoka 23 cm. Si že kdaj slišal da se otroci igrajo z VRČKI in KANGLICAMI! Na spletu tega enostavno ne najdeš a tu marsikaj ne najdeš.

Si ugotavljal ali besedo VRČ arheologi uporabljajo? Silno redko ali pa sploh NE.
Ali je beseda VRČ ena od temeljnih slovenskih besed? Povem krajše slovenske besede so starejše in slovenske besede so sestavljene iz krajših. Še posebej stare so tiste, ki jih lahko smiselno beremo v obeh smereh. npr.: VRČ = ČRV. Povem ti, da se je v preteklosti beseda VRČ veliko uporabljala. Zakaj torej tako malo artefaktov VRČev in VRČKOV? Narodni muzej govori, da je posodica keltskega groba iz VAČ, kar VEDRICA. Ta beseda je bila pred kratkim IZMIŠLJENA. In je ne najdemo v zapisih pred cca 19. stoletjem... NMS govori, da je Keltski grob Halštatski grob, da je cca 3 litrska posodica Situla. To je poimenovanje številnih posod, ki nimajo veliko zveze ena z drugo v latinskem jeziku, torej v jeziku Rimskega imperija.
Torej lahko sklenemo da vse kar glede domorodne kulture trdi Narodni muzej Slovenije ipd razlagalci je treba dvakrat premisliti preden temu verjamemo.

Glej tudi razpravo: Ali je Situla VEDRICA, VEDRO ALI VRČ? PDF