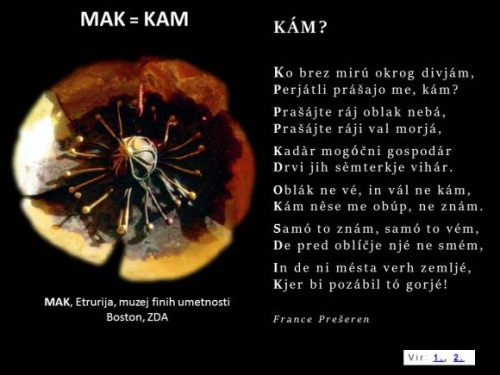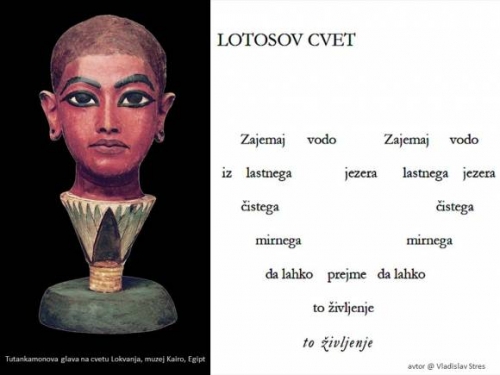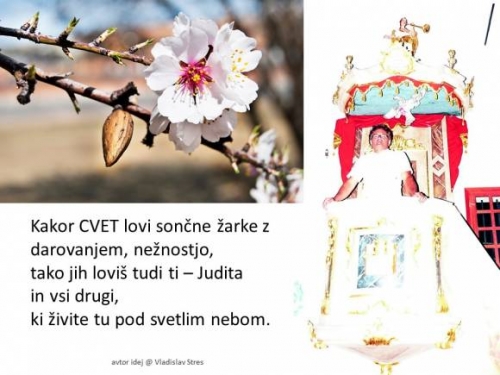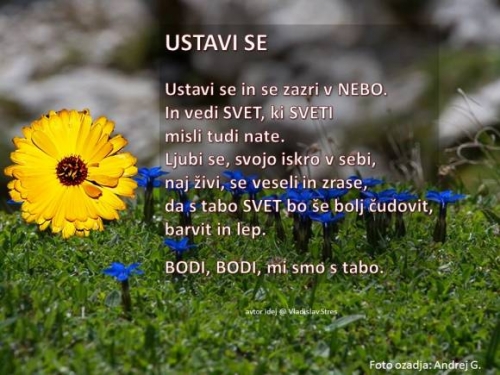 Pesem, LOTOSOV CVET je iz zbirke Zrcalo.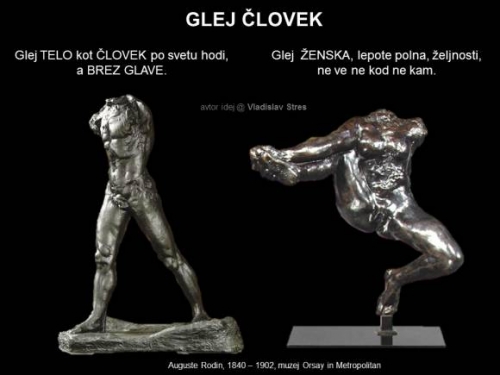 https://youtu.be/VzBRH1yyhjI

________________________________________
Dodano 9.2.2018 ob 0,50 uri
NEUMNOST POD KRINKO GOVORA O NEUMNOSTI

Predsednik upravnega odbora Prešernovega sklada Vinko Möderndorfer : "Trditev, da mora umetnost izpolnjevati neka pričakovanja najširše javnosti, so neumnosti - in to nevarne neumnosti. Kar priznajmo si: kakšna so v resnici kulturna pričakovanja najširše javnosti? To je zabavna glasba, kvazietno kultura, komedije s pačenjem nastopajočih, neskončne TV-nadaljevanke z lažnim čustvovanjem, napleskan kič in podobno. Če bo država v svoji kulturni politiki sledila samo pričakovanjem najširše javnosti, bo ta dežela potonila v kulturno temo."

Vladislav Stres: Ravno z boljšo - DUŠAM državljanov primernejšo kulturno ponudbo, ki nam dali na razpolago dejansko izbiro. Vinko ima prav, ko govori o namernem UBIJANJU DUŠE NARODA, niti pomisli pa ne, da večji del kulturnikov pri tem ubijanju SODELUJE.
Da spomnim Tomaž Pengov (razen Ježkove nagrade RTV SLO) v življenju za svoja genialno umetniška dela in sposobnosti ni dobil NOBENE NAGRADE za svoje delo. Pa je pustil neizbrisen pečat v zavesti naroda, tistih, ki so ga slišali, prebirali. Lahko Vinko našteje par takih, ki so pustili tak umetniški pečat?

Preko izjemne pesmi TIHA JE REKA, ki je bila zapeta v počastitev Dneva državnosti 24.6.2017, sem v blogu Dan državnosti, norčevanje iz državljanov ter RAZPRAVA O BOGU, ČLOVEKU IN DRŽAVI razkril del ozadij prireditve. Zamolčano je bilo avtorstvo glasbe ter teksta pesmi, mojega nekdanjega prijatelja in znanca, Tomaža Pengova.


Zanimivo članka Državna proslava: "Umetnost je edina prava, neideološka opozicija neumnostim oblasti" v napovedniku MMC RTVS cenzure ne najdemo. Preveri KLIK.
Predsednik upravnega odbora Prešernovega sklada Vinko Möderndorfer tudi tebe, ki si eden boljših kulturnikov in kritika toliko niti ne leti nate, bolj kot funkcionarja, ker te okostnjaki v omari Foruma 21... ne zanimajo CENZUIRAJO.

Člani KOMISIJE KI SI JI PREDSEDOVAL IN JE ZASLUŽNA ZA PODELITEV PREŠERNOVE NAGRADE: Andrej Blatnik, Miran Štuhec, Mojca Kranjc, Milena Zupančič, Ira Ratej, Tomaž Rode, filmski kritik, Zdenko Vrdlovec, Srečo Dragan, Breda Kolar Sluga, Edi Berk, Uršula Teržan, Hugo Šekoranja, Simon Kreč, Matej Venier.
Kdo od njih je avtor ponarodele: pesmi, bajke, drame, ponarodelega filma, izreka...
Milena Zupančič je namreč igralka in ne avtorica napol ponarodelega Cvetja v jeseni.

TA NORČEVANJA brez vsake dodane vrednosti vas zanimajo saj jih celo nagrajujete:
Dobitnica nagrade Prešernovega sklada Maja Smrekar je nagrado prejela za projekt, v katerem je dojila svojega psa in v postopku umetne oploditve človeško celico zamenjala s pasjo. Druga nagrajenka, dramatičarka Simona Semenič, se je v preteklosti ovijala v slovensko zastavo, iz katere je izrezala grb in v luknjo »inštalirala« svoj od nosečnosti zaobljen trebuh. Vir , 2., 3.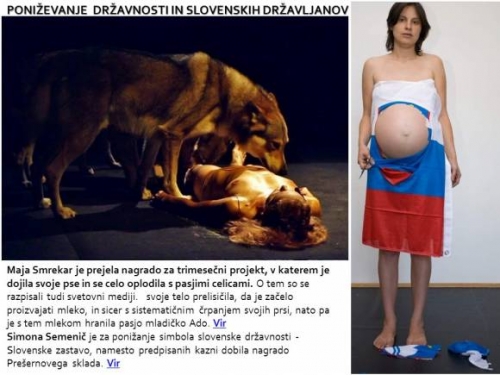 NIKOGAR OD VAS OČITNO NE ZANIMA SPODNJE. To pač za vas ni KULTURA, saj ste po osnovi zameni med lastne planke v glavah ali pa povsem nevedni: KAJ NAM PRIPOVEDUJE SLIKOPISNA PISAVA VAŠKE SITULE?
Prav gotovo ni vse povsem črno, ampak skoraj.
Si kdaj delal na anketi o dosegu del teh lastnih članov?
Ali veš da jih 99% državljanov ne zna NITI POVEDATI NJIHOVIH IMEN?
Napihnjen balonček umirajoče slovenske KULTURE.



K A Z A L O... UMETNOST