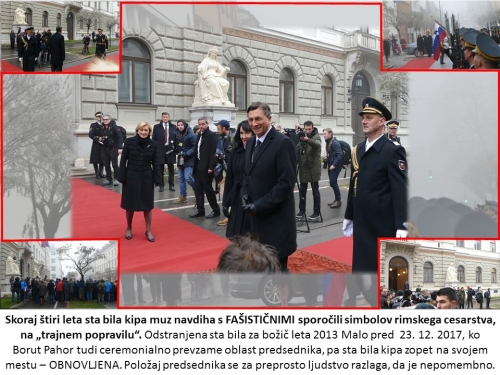 BORUT PAHOR, V OZADJU KIP Z FAŠISTIČNIMI OBELEŽJI
Več:
FASCES in VIP - veze in poznanstva
in
Fašistični simboli, dejanska podstat lož, ki onemogočajo demokracijo tako pri nas v Sloveniji, kot v številnih državah po svetu

Predsednik republike Borut Pahor je prevzel vlogo koordinatorja pri iskanju konsenza za spremembo volilne zakonodaje na način, da se ne spremeni nič. Pri njemu se bodo pogajalci strank sestali predvidoma konec tega tedna.

Koordinirati pa bi moral civilno družbo in organizirati resne javne posvete z zainteresirano in strokovno JAVNOSTJO. Tega SEVEDA, kot pristoji DIKTATURI, ki se kiti z besedičenjem o REPUBLIKI, ne bo naredil. Pri spreminjanju ustavnih določil Volilnega sistema bi moral razpisati / zahtevati Ustavni referendum. Ha, ha - ha, seveda je to samo neslana šala. Tega še nikoli nismo imeli, niti ko se je v 90 letih sprejemala začasna ustava. No še sedaj imamo to ZAČASNO USTAVO parih intelektualcev iz tistega časa spopada z LJA že skoraj 30 let...

Navidezni posvet bodo oblastniki naredili najverjetneje kar v DZRS, pred tem morda tudi še v DS RS, a šele, ko do podrobnosti uskladijo to kar še niso povsem, npr. kdaj in kako izpeljati Davek na nepremičnine, razprodati imetje javnih zavodov, omogočit da tuj jezik (angleščina?) v Sloveniji postane tudi (so)uradni jezik komuniciranja, omogočiti lastnikom podjetij, da v podjetjih izbirajo jezik sporazumevanja z delavci....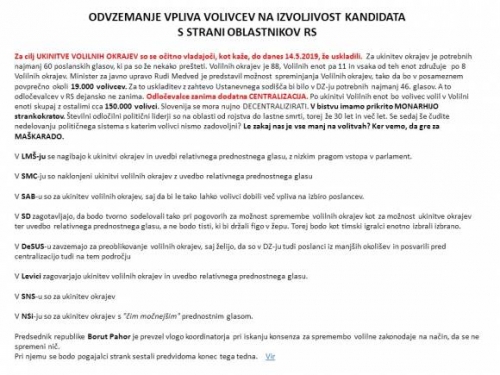 IZJASNITVE GLEDE SPREMEMBE VOLILNEGA SISTEMA V RS
Vir

BREZVEZNOSTI RECIMO BREZVEZNOST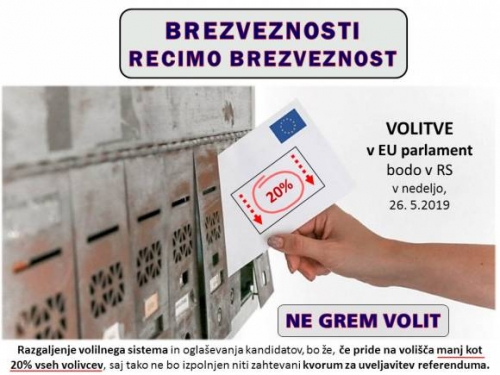 K A Z A L O