Iz PARTIZANSKIH NOVIC

Zakaj voliti?
Koga ne voliti?
Zakaj nekoga voliti, da ne bo drug izvoljen?
Zakaj ne voliti?

Večna dilema. Politične stranke lansirajo odkrito in podtalno razno razne verzije, da pridobijo volivce na volitve. EU volitve imajo komaj slabo 25% udeležbo. Popolna ne legitimnost, ko neke strankarske strukture volijo same sebe in trdijo, da jih je izvolilo ljudstvo in, ki v 75% ne gre na volitve.
So se kdaj strankarske strukture vprašale ali je kaj narobe z njimi?
Niti se ne rabijo, saj je za izvolitev dovolj tudi en sam glas in to tudi, če kandidati volijo sami sebe in jih nihče drug.
Praktično je okrog 15 (na oko) političnih strank s po 8 kandidati, kar znese približno 120 oseb. In, če vsak obkroži sebe je to 120 volivcev, po Zakonu dovolj, da so izvoljeni. Udeležba na volitvah bi tako lahko bila 0,001% in bi izvoljeni trdili, da so izvoljeni predstavniki naroda.
Tako izvoljeni upravljajo z državo, sprejemajo predpise, upravljajo z EU, sprejemajo njene predpise itd..
Za ljudsko iniciativo je Ustavno določilo, ki predpisuje, da je za uspešnost izvedbe (zmaga kdo dobi večino) potrebna udeležba najmanj 20% vseh volivcev, pa se gre samo za eno VPRAŠANJE, en PREDPIS ali eno DOLOČILO PREDPISA.
Kriteriji za nas narod, da kaj odločamo so visoki, dočim, ko gredo politične stranke na volitve so pa Ustavno in Zakonsko uspele, če se jih udeleži 88 volivcev, hkratnih kandidatov za Državni zbor ali 8 volivcev, hkratnih kandidatov za Evropski parlament (tudi en sam, da je izvoljen en sam evro poslanec z enim glasom).

Drug zamršen volilni problem je, da so se vse stare stranke med seboj dogovorile: "Vladamo skupaj in to samo mi, enkrat kot oblast, drugič ko opozicija. Nobenega novinca ne spustimo medse razen, če ni naš in naša frakcija."

Tako se obstoječe strankarske strukture po potrebi prebukirajo v navidezno nove, spajajo in razhajajo. Ob osamosvojitvi je bil določen že vrstni red kdaj bo kdo na oblasti.
Mesec dni pred začetkom uradnih volitev se ve (s plus ali minus eden poslanec) kdo bodo izvoljeni poslanci in kdo je po dogovorjenem redu mandatar.

Z anketami in medijsko ustvarjeno priljubljenostjo se potrdijo volitve kot, da so tako bile in kot so jih napovedovale ankete, ne glede kako smo volivci volili.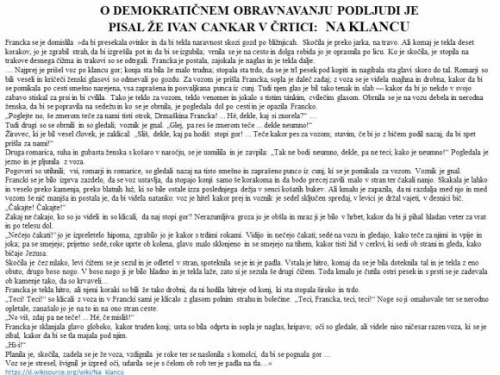 Pa kašen aparat potem imajo? Kako je to mogoče?
Preprosto, če so dogovorjeni, teče vse kot po maslu.
Kolikokrat ste se vprašali: Kako je ta lahko bil izvoljen, če pa ne vem za niti enega, ki bi ga volil? Itd.

Naš namen ni, da vas pozivamo k bojkotu, ne k volitvam, ne za tega, ne za onega.
Naš namen ni, da vam zbijamo volilno voljo niti, da jo podžigamo, ampak, da se zavedate: kakor koli boste naredili ni nič narobe.
Lahko ste zadovoljni, lahko nezadovoljni, če greste ali ne greste volit.
Odločitev je vaša.
Tudi, če boste mislili, da ste storili kaj narobe, da ste šli voliti pa bi bilo bolje, da ne bi šli iti in obratno, se ne žrite.




Z vidika kdo bo izvoljen in kdo ne, nimate nobenega vpliva, čeprav so vas preparirali, da ste vi tisti, ki odloča.
Verjemite, da ne, ker je že vse odločeno, hkrati pa ne imejte občutka ne moči.
Se bodo vremena zjasnila, nič ni za vekomaj zamujeno nič ni izgubljeno.
Ne se sekirat, če boste videli, da ni tako kot ste želeli.
Glavo gor in gremo naprej.

Najboljše zdravilo je smeh, da se nasmejite sami sebi, kako ste se pustili potegniti za nos.


Nasmejmo se ali volilna tragi komedija ugrabljene države

Alo, so stare struktur v redu ali ne? Alo, so prišleki v redu ali ne? In njihove kombinacije, puščamo kot vam odprto vprašanje!

Volitve so po Ustavi RS in mednarodnih Listinah;
ne poštene,
ne svobodne,
ne enakopravne.

Parlamentarne stranke (bela elita) se peljejo z avtobusom, dočim ne parlamentarne in ne odvisni kandidati (kot črnci) peš tečejo za njim misleč, da jih bodo na cilju prehiteli.
Prava politična segregacija (političnega razločevanja) kot v času rasnega aparthajda v Južni Afriki.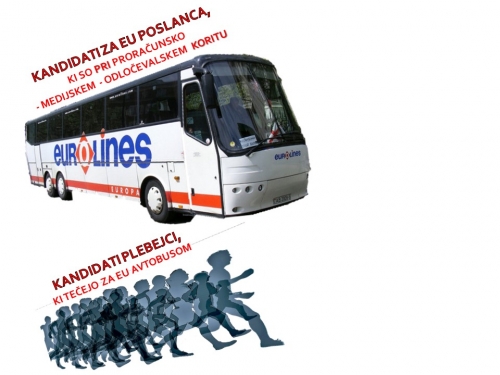 Parlamentarne stranke lahko s 4 (dve z 6) podpisi poslancev kandidirajo na Evro volitvah, dočim morajo ne parlamentarci zbrati 1.000 overjenih podpisov podpornikov, neodvisni kandidati pa celo 3.000 podpisov podpore.

Po Ustavi in mednarodnih Listinah poslanec nima te pravice, a je po slovenski zakonodaji njegov podpis vreden kot 250 podpisov občanov, v primerjavi z neodvisnimi kandidati celo kot 750 podpisov občanov. Tako en elitnež velja 250 ali 750 plebejcev.
Parlamentarne stranke imajo po Zakonu o RTV SLO odmerjenega 2/3 časa od skupnega dočim ne parlamentarci in neodvisni skupaj 1/3 in to v ločenih (segregiranih oddajah).
Tako plebejci veljaj le 1/3 elitnežev.

Uh, kakšno srečo imam, da volim elitneže, sem prvi razred.
Ubogi jaz, ker volim plebejce, ni nam uspelo.

In takšno je stanje na vseh področjih države. Na ta način so eni dobili naša podjetja, odnesli 75 milijard € na tuje, mi pa se vprašujemo kako je to mogoče. Krivica se nam dogaja vse povsod.


14. člen Ustave RS
(enakost pred zakonom)
V Sloveniji so vsakomur zagotovljene enake človekove pravice in temeljne svoboščine, ne glede na narodnost, raso spol, jezik, vero, politično ali drugo prepričanje, gmotno stanje, rojstvo, izobrazbo, družbeni položaj, invalidnost ali katerokoli drugo osebno okoliščino.

Dokler ne bo urejena volilna zakonodaja je držav ugrabljena od elit in te so ugrabljene od korporacij.

Svoboda narodu! Oj Osti jarej!