do soodločanja državljanov o delovanju države. Ustavni zahtevi v odločbi USRS, da morajo imeli volivci odločujoč vpliv na izbor poslancev tudi tako, da se glede števila volivcev uskladijo volilni okraji, se DZ RS kot klientelistično gnezdo UPIRA. Odločba se mora uresničiti do letošnjega decembra.
Projekt koalicije da Volilne enote kar ukine je začasno ustavljen, sledi par mesečno NATEGOVANJE korenčka in palice s strani »nove koalicije«. Najverjetneje bo tik pred decembrom - tik pred rokom - potrjen podoben predlog, a predlagala ga bo druga politična opcija. Da postane volilni sistem še bolj CENTRALIZIRAN morajo biti Volilni OKRAJI (88) ukinjeni. Tako bo začela Slovenija tudi politično razpadati na kvazi pokrajine t.im. VOLILNE ENOTE (8). Kočevje in Ljubljana je npr. ena volilna enota. To se bo dogajalo na podlagi političnih kupčkanj in izsiljevanj na podlagi lažnih pokrajin – Volilnih enot. Ponudena »PALICA« bo predlog da naj bo CELA SLOVENIJA EN VOLILNA ENOTA in korenček ABSOLUTNI PREDNOSTNI GLAS. To zadnje bo verjetno sprejeto in bo dejansko boljše kot imamo, a posledica ukinitve Volilnih enot bo ta da bo volilni sistem še bolj oddaljen od volje volivcev, saj bodo volitve delane na HALOO efektu, kričanja, ne pa razmislekov in ogleda programov posameznih kandidatov.
Predlagano skrpucalo imenovano - predlog Zakona o volitvah v državni zbor je 5.3.2020 (?) podprlo 57 poslancev iz LMŠ, SMC, SD, Levice, NSi, SAB in SNS, proti pa so bili v SDS in DeSUS. Za spremembo v novo neustavnost bi potrebovali 60 glasov. Vir

Z ukinitvijo Volilnih okrajev se izniči zahteva Ustavnega sodišča in omogoči ŠE VEČJE MEDIJSKE MANIPULACIJE, saj bo v medijih v imenu vseh nastopalo predvsem 8 pomembnežev, najbolj všečnih govorcev, ki bodo všečni samo, če bodo dobro zavajali in lagali.

ZDRAVA PAMET PRAVI
Ukiniti je treba VOLILNE ENOTE (8), tako se sistem DECENTRALIZIRA, strankokratizem ob obstoju Volilnih okrajev (88) kot ga poznamo tako razpade.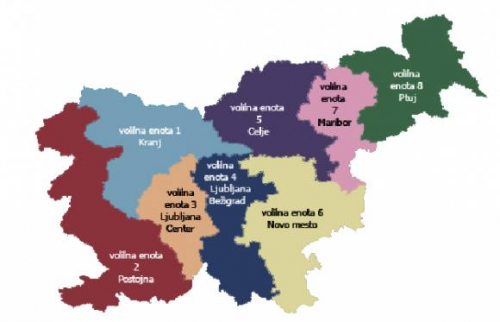 VTA