TOŽBA PROTI ZVEZNI DRŽAVI NEMČIJI ZARADI UVAJANJA PREDPISOV CORONE
Zaradi nesorazmernih, nestrokovnih in škodljivih ukrepov v 83 milijonski Nemčiji.
___
BAHNER
specializirana odvetniška družba heidelberg
voßstr. 3 69115 Heidelberg 0 62 21/33 93 68 0 tel info@beatebahner.de
Posodobljeno sporočilo za javnost odvetniške pisarne BAHNER z dne 3. aprila 2020 Beate Bahner. Odvetnica za medicinsko pravo iz Heidelberga, napoveduje tožbo proti koronski uredbi Baden-Württemberg:
Ukrepi zvezne in državne vlade so očitno neustavni in kršijo izjemno veliko število temeljnih pravic državljanov v Nemčiji. To velja za vse predpise Corone v 16. zveznih državah. Predvsem ti ukrepi niso utemeljeni z Zakonom o zaščiti pred okužbami, ki je bil pred nekaj dnevi hitro revidiran. Tedenske omejitve izstopov in prepovedi stikov na podlagi najbolj črnih scenarijev, modelov (brez upoštevanja dejansko kritičnih strokovnih mnenj), pa tudi popolno zaprtje podjetij in trgovin brez dokazov o nevarnosti okužb s strani teh podjetij so na splošno neustavne.
Razpoložljive številke in statistika kažejo, da je okužba s korono pri več kot 95% prebivalstva neškodljiva (ali je verjetno že minila) in zato ne predstavlja resne nevarnosti za širšo javnost. V nasprotju s tem je treba upoštevati rizične skupine starejših in ljudi z že obstoječimi boleznimi (približno 4,5% prebivalstva). Te ljudi je treba zaščititi z ustreznimi ukrepi tako vlade kot tudi tveganih skupin: na primer z zaklepanjem domov za ostarele, z razjasnitvijo poti prenosa (samo s kapljično okužbo), s higienskimi ukrepi in predpisi na daljavo ter zlasti s samozaščitnimi ukrepi za te ranljive ljudi, tudi v tednih epidemije. Medicinsko osebje v ambulantah, zdravniških ordinacijah, domovih za ostarele in zdravstvenih službah mora biti na voljo z vsem potrebnim materialom, česar zvezna vlada doslej še ni zmogla!
..
Beate Bahner
pojasnjuje, da bo šla na zvezno ustavno sodišče:
Radikalni ukrepi, ki jih je sprejela vlada, ki prepovedujejo izhode in stik 83 milijonom ljudi ter je z njimi ohromila skoraj celotno gospodarstvo za več tednov, niso upravičeni z razvojem podatkov, niti s študijami, niti s preteklimi izkušnjami…
Vzorci populacije morajo tudi določiti dejansko (verjetno večkratnik) število okužb in s tem dejansko (verjetno večkrat nižji) odstotek resnih in najresnejših bolezenskih posledic virusa corone. Strokovnjaki so ugotovili, da je odstotek umrljivosti Covid19 le 0,1% (to je en umrli od 1.000 okuženih in je zato primerljiva s hudo epidemijo gripe). Predvsem je nujno potrebna obdukcija ljudi, ki so umrli zaradi ali s korono, da bi ugotovili, kaj je povzročilo, da so ti večinoma stari ljudje z večinoma številnimi boleznimi dejansko umrli. Potrebna je tudi poštena predstavitev števila smrtnih žrtev, saj vsak dan (p.s.: v ZRN) umre okoli 2,500 ljudi, od tega približno 900 ljudi v domovih za ostarele.
V Nemčiji vsako leto umre 900.000 ljudi!
Končno je potreben pravilen znanstveni pristop in prave informacije za ljudi!
...
O osebi: Beate Bahner je odvetnica za medicinsko pravo, pred 25 leti je bila sprejeta v odvetniško zbornico, je lastnica specializirane odvetniške pisarne BAHNER v Heidelbergu. Pred Zveznim ustavnim sodiščem je bila trikrat uspešna s svojimi ustavnimi očitki o kršitvah poklicne svobode. Beate Bahner je avtorica petih zdravstvenih knjig in številnih člankov in prispevkov. Njena zadnja knjiga se ukvarja s temo "Zakon o boju proti korupciji v zdravstvu".
odvetniška družba bahner voßstr. 3 69115 Heidelberg
0 62 21/33 93 68 0 tel 0 62 21/33 93 68 9 faks info@beatebahner.de
Identifikacija z DDV 32011/30304
Originalni tekst ki je okvirno preveden najdete tu
Vir
:
http://beatebahner.de/lib.medien/aktualisierte%20Pressemitteilung.pdf
___
Bo kdo podobno tožil Vlado RS?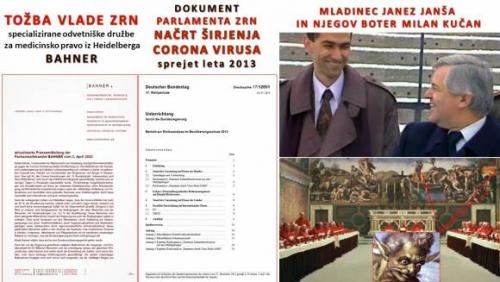 Ali se velika igra dveh navidezno različnih klanov tudi v RS končuje? Janša - Kučan?
___
NAČRT PANDEMIJE IMENOVANE SARS - KORONA IZ LETA 2012 - 2013
Natančen načrt današnjega dogajanja je v drugem delu vladnega dokumenta Nemčije iz leta 2012/13, kar razlaga spodnji video pogovora z dr. Walter Veith (upokojeni
profesor
oddelka na oddelku za medicinsko bioznanost ter prof. zoologije univerzi v Cape Townu) in dr. Martin Smithom (imunologist, alergist), ki ga najdete spodaj:
https://dipbt.bundestag.de/dip21/btd/17/
120/1712051.pdf
Video pogovora o dokumentu - dokazu kreiranja virusne informacijske vojne proti človeštvu
https://youtu.be/taHGPRzFnz0
__
Posledice pretiranih in napačnih ukrepov vlade bodo: izčrpavanje dobrin blagostanja, saj bodo propadla številna, predvsem mala podjetja, zaradi izdajanja novega denarja bo realna kuna moč strahovito padla - inflacija, zaradi pomenjkanja bodo številni zdravstveno ipd. rizični IZPOSTAVLJENI, veliko bo tudi divjanja tolp in nasilja na sploh. Vlada bo reševala prazno proračunsko blagajno z prodajo skupnega (družbenega, preimenovano v državnega) premoženja s katerim še nepooblaščeno razpolaga.
ČUDOVITI NOVI SVET ORWELA.
___
Švedi verjamejo, da v demokraciji ljudem ne moreš prepovedati gibanja na prostem, verjamejo pa tudi, da je vsak odgovoren zase in za družbo, zato ne govorijo veliko o prepovedih, ampak o priporočilih.
https://siol.net/novice/svet/slovenka-na
-svedskem-jana-bizovicar-pandemija-ukrep
i-522263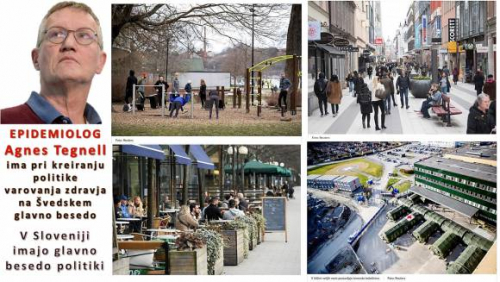 Švedski EPIDEMIOLOG dr. Agnes Tegnell ima pri kreiranju politike varovanja zdravja na Švedskem glavno besedo. V Sloveniji imajo glavno besedo politiki
__
Švedski EPIDEMIOLOG dr. Agnes Tegnell ima pri kreiranju politike varovanja zdravja na Švedskem glavno besedo. V Sloveniji imajo glavno besedo politiki
__
Nemški novinar
Billy Six
je raziskal trenutno situacijo, ki nam jo predstavljajo mediji v zvezi s koronavirusom. Obiskal je bolnišnice in predstavil mnenja zdravnikov.

https://youtu.be/ol__yiL_nc8
Številni bolniki s korono naj bi se zdravili v kliniki Virchow v bolnišnici Charité v Berlinu. Novinar Billy Six se je odločil da si to zdravljenje pobližje pogleda.
Po poročanju medijev je v bolnišnici silna gneča, a Six je našel skoraj prazno kliniko:
"Tu se ne dogaja nič."
Edina stvar v ambulanti, ki se nanaša na izbruh korone, so opozorila, ki pravijo, da ne smete sedeti drug poleg drugega.
Govoril je tudi - neuradno - z nekaterimi zaposlenimi v bolnišnici, ki so se na medijska poročila odzvali presenečeno. Zaposleni so do medijev zelo kritični in pravijo, da je vse pretirano.
Rekli so mu, naj o situaciji ne govori. Novinarjem smejo govoriti le tiskovni predstavniki.
ITALIJANI NE UMIRAJO OD KORONE
Šest zdravnikov se je odločilo za sodelovanje z raziskovalnim novinarjem Billy Sixom tako da so pristali na intervjuje, oziroma zbiranje izjav. To se je zgodilo, ko so številni zdravniki v medijih kritizirali vladni pristop reševanja problema infekcije s korona virusom.
Na primer,
dr. Matteo Bassetti, vodja klinike San Martino v Genovi,
ki je za novice
Genova24.it
povedal: "Ljudje v Italiji ne umrejo od korone, ampak zaradi hude gripe." Izpostavil je tudi povsem napačno zdravljenje s kortizolom.
Nemški
pulmolog dr. Wolfgang Wodarg j
e še povedal, da se vsako leto pojavijo novi koronavirusi, zato jih ni smisla posamezno testirati.
"Razen če ne želite panike."
Letos je umrljivost bistveno nižja kot v preteklih letih. Če tega virusa ne bi testirali, ne bi nikoli ničesar opazili, je dejal dr. Wodarg. Po njegovem mnenju se pandemije pojavijo kadarkoli, saj se virusi nenehno širijo po svetu.
NE GRE ZA NOV VIRUS, AMPAK ZA NOV TEST Internist dr. Claus Köhnlein
je v pogovoru za RT Deutsch dejal, da nove bolezni ni in da glede tega ni treba skrbeti. "V naši bolnišnici imamo pripravljenih 20 ledenih postelj in zdaj čakamo prve bolnike," je dejal dr. Köhnlein. "Prepričan sem, da nikoli ne bodo prišli. Ni novega virusa, razvit je bil le nov test."
Mediji širijo zgodbe spodbujanja čustvenih emocij, laiki namreč ne vedo kaj vse se v bolnišnicah dogaja že vsa leta in to brez korone virusa, posledica je vse več negotovosti, strah in na koncu panika.
__
V ozadju koronavirusnih spletk se dogajajo gospodarski, finančni, inflacijski, prevzemni, monopolizacijski in drugi procesi.
__
Tu je zbranih 1.851 podpisov, ki so bili potrjevani preko e. pošte. zastavljenih je več vprašanj Vladi RS. Iz preteklih izkušenj je znano da je to dejansko peticija zaradi ugotavljanja javnega mnenja za namenjena javnemu mnenju. Poslana bo Vladi RS a brez spiska imen, ki so dostopna avtorjem peticije.
Kaj pa tvoje mnenje - podpis?
PETICIJA PROTI ODLOKU VLADE RS O PREPOVEDI GIBANJA zunaj občine bivališča, od 30. marca 2020