Neandertalci so skrbeli za ostarele in pokopavali umrle. Morda so celo poznali nekakšno obliko govora. Niso pa mogli preživeti konkurence naših prednikov. BEDARIJA!
Neandertalci so verjetno najbolj znani predzgodovinski človečnjaki, a hkrati najmanj ustrezni za primerjavo s poreklom današnjega človeštva. Čeprav so bili razširjeni po Evropi, Bližnjem vzhodu in zahodni Aziji, so pred približno 25.000 leti nenadoma izumrli. Natančen razlog za to ni znan, najbolj logična razlaga naj bi bila, da se niso mogli upreti pojavu inteligentnejših in inovativnejših tekmecev, prednikov modernega človeka.
Pred več kot pol milijona leti se je naši daljni prednik homo erectus (pokončni človek) začel razvijati v homo sapiens (misleči človek). Ta linija se je nato razcepila v dve veji ali podvrsti: homo sapiens neanderthalensis (neandertalski človek), poimenovan po dolini Neander v Nemčiji, kjer so našlo prve ostanke, ter homo sapiens sapiens oz. vejo, kateri pripadajo vsa današnja ljudstva sveta.Z genetskimi raziskavami ostankov DNK v ostankih Neandertalcev so odkrili nekatere gene, ki jih najdemo tudi pri sodobni evropskih človeških populacijah, ne pa tudi v afriških.Spodnja čeljust je imel izbuljene brado in prsih je sod-shaped. Bili so močno zgrajena, prilagojeno hladnem podnebju.Povprečna višina je pa bilo okoli 167 cm, teža približno 80,8 kg, in volumen možganov pri povprečju 800- 1200 cm 3. Živeli so kot lovci in nabiralci v skorajda polarnih razmerah.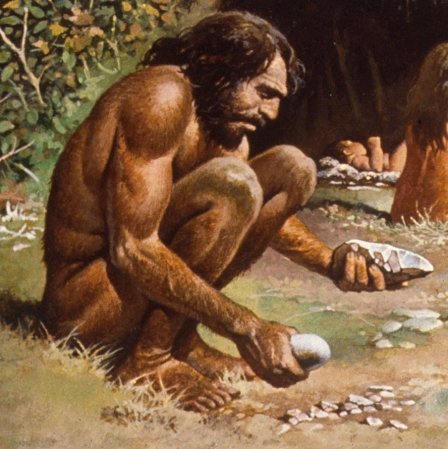 TA slika je fantazijska blodnja slikarja, V ledeni dobi nag človek. Jaz bi ga vsaj odel v jelenjo kožo.
KAKO ZNANOST- ANTROPOLOGIJA -NIČ NE VE-DOKAZ JE TU! KAKO MIZERNO JE TO CIVILIZACIJSKO ZNANJE!!!!!! ZNAJO SE¨, PA ŠOPIRITI.S komer koli na svetu,grem stavit,da gen DNK neandertalcev ,niso našli v črni- negridni in mogolidni rasi.V kavkazijski (beli rasi)pa povsod po svetu!! ZAKAJ?Prav tako grem s komer koli stavit,da so moje trditve pravilne. Neandertalec ni izumrl,ampak se 7000 let preobražal v homo sapiensa. Pred 21000 leti je bila na Zemlji 7000 letna galaktična jesen ko se je homosapiens preobražal v neandertalca.Pred 14000 leti se je zgodil t.i. gravitacijski nihaj Zemlje.Zemlja obnovi ledeni kapi za nov 28000 letni cikel..Nastopila je 7000 letna ledena doba. Ljudje neandertalci iz severnih zemljepisnih širin so se selili na nižje zemljepisne širine, ( skopani rovi- jame od Škotske do Anatolije) okoli 30 stopinj in nižje.Tam ni bilo ledu. Poglejte kje so nastale najstarejše civilizacije-na katerih zemljepisnih širinah? Pri selitvi severnjakov je bilo bistvena,barva kože,zunanji izgled postava,oči,lasje itd.Tako dobimo v ekvatorialni Afriki,Avstraliji negride in v Aziji in Ameriki mongolidno raso in indoevropsko populacijo neandertalcev . V severni Afriki afro-mediteransko,kamor štejem tudi Arabce,ki so po odmiku selitvi nazaj kavkazijske rase Bele na sever zavzeli Indijo in Arabski polotok.Torej neandertalec se je dokončno preobrazil nazaj v homo sapiensa pred natanko 7000 leti.To je pa dokazljivo z začetkom starih civilizacij.Za homo sapiensa je danes značilno,da ima možgansko prostornino 0d 1200-1600cm3,življenjsko dobo 70 let in povprečno višino 180cm.

Toda pozor, mi se že od trenutka ko smo postali homo sapiens,preobražamo v homo dei-ljudi bogove. Ko bo naša civilizacija zopet na višku bo homo dei živel 120 let s povprečno možgansko prostornino 1600-2000cm3 in povprečno višino 200 cm. Vedite naš genom se ciklično preobraža zaradi cikličnih nihanj EM frekvenc naše Zemlje,Osončja in Galaksije. Če bi imeli resničen vpogled vsaj 28000 let nazaj,bi našli ljudi homo sapiense popolnoma enake nam.Našli bi tudi popolnoma drugačno geografsko obličje Zemlje. Vedite ,kar človek ustvari,človek sam uniči-izgubi po naravni zakonitosti,nato pa še gravitacijski nihaj (vesoljni potop)Zemlje,ko se kopno in vode medsebojno prelijejo- zamenjajo. Umre staro- rodi se novo.Kar človeštvo ustvari narava uniči v parih dneh. Vse sledi starega civilizacijskega vala izginejo v 1000 letih. Ohrani se samo teološka brezčasna civilizacijska zapuščina-osnova vseh verstev sveta,da se izgubljeno civilizacijsko znanje hrani v vseh verah do ponovnega spoznanja-dešifriranja le tega.Vedno je tako-ciklično ponavljajoče VALOVANJE.. EP o Gilgamešu 11 ploščica na pamet pisano:Glej mesto Širipuk in bogovi so bivali v njemu in bogovom so se srca vnela za vesoljni potop. Podri svojo hišo,sovraži premoženje,pobrigaj se za življenje,reši življenje in Utnapištim je začel graditi ladjo,da bi rešil ves svoj rod in vse življenjske vrste. Ep govotri o civilizaciji homo dei v kar se mi že danes preobražamo.Toliko o tem.