Zaradi izjav na 43:00,
https://4d.rtvslo.si/arhiv/dosje/174623735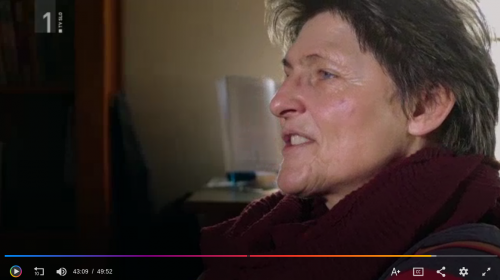 --------------------------------------------------
Ponavadi se dopisi pričnejo s "Spoštovani" ali "Spoštovana", žal pa v vašem primeru ne morem niti tvegati prave naslovitve, še manj pa bi to zvenelo iskreno, saj potujčevalcev in raznarodovalcev slovenskega naroda ni mogoče tovrstno naslavljati.
Torej, Jana,
bil sem opozorjen na vaše zadnje besedne izločke, ki ste jih pustili na RTV SLO.
Če že s svoje akademske višave na največji slovenski univerzi razlagate, da slovenskega naroda ni, potem vas zadnjič lepo opozarjam, da bo ob naslednji taki potezi sledila kazenska ovadba po 100. členu KZ, saj s svojo družbeno prepoznavnostjo vplivate na širše prebivalstvo, ter ga zavajate z lažno, neznanstveno in dogmatsko tezo, da slovenskega naroda "ni več".
Namesto, da bi poskrbeli, da vaš kolega Jezernik vrne 1.000.000 evrov, ki si jih je prisvojil z raziskavo, v kateri je med drugim ugotovil, da smo Slovenci besedo "narod" dobili šele okoli 1848 poKr., pa je ta beseda kar dvakrat zapisana (!) v Brižinskih spomenikih (1000 let prej),
namesto, da bi raziskali genocid nad Slovinci s Pomorjanskega, ki so dokaz 5.000 letne Jantarske poti - Slovenov!!!,
namesto, da bi prisluhnili
Venelinu, Šumanu, Vramcu, Hromniku, Kremplu, Vrbovšku, Šavliju, Boru, Tomažiču, Miklošiču in nenazadnje(!) Habjanu,
vi v svoji lastni znanstveni bolnosti trdite, da ste Prekmurka, niste pa Slovenka - in to v čisti slovenščini.
Fej vas bodi in vse vaše znanstveno delo, če mislite še enkrat reči eno samo podobno čez slovenski narod!
Boljši ljudje od vas so za ta narod umirali in dobro so vedeli - zakaj!
Skratka, očistite sinapse in se pokesajte svojih dosedanjih zmot!
Z zadnjim opominom,
Blaž Babič, Lublana