29. aprila sem – kot parodijo na patetično desno dramatiziranje redeče zvezde (kot partizanskega simbola) – twittnil: »Rdeča zvezda je simbol vagine! Zato so jo partizani nosili na čelu, ker so bili v seksualni karanteni in niso prišli do vagine, so pa ves čas mislili nanjo. Nepotešene samičke so prepevale: "Šivala je deklica zvezdo, zvezdo rdečo kot kri," ker jo je imela od pohote prekrvavljeno!«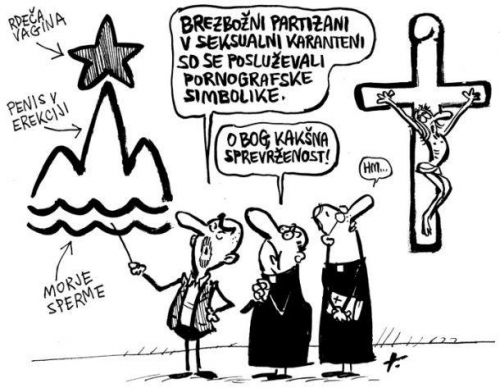 Tednik Mladina me je – sicer malce nespodobno in napačno – razglasila za psihologa in me takole povzel(a): »Rdeča zvezda je simbol vagine. Zato so jo partizani nosili na čelu, ker so bili v seksualni karanteni in niso prišli do vagine, so pa ves čas mislili nanjo.«
To isto psihoanalitično tezo/interpretacijo všečno, na humoren način, »prodajam« tudi v svoji predstavi »Razočarana gospodinja pri seksologu« (16. maja z njo gostujem v Mariboru, 24. maja pa v ljubljanskem Kinu Komuna). (VABLJENI!)
»Moji« levičarji pa nad to (originalno mojo) interpretacijo očitno niso ravno navdušeni. Ortodoksni levičar Brane Praznik ima z menoj neporavnane račune na račun spodletelega filma »V imenu resnice«. Dotični Praznik je zelo ponesrečeno in politično motivirano »pričal« v politično nekorektnem filmu Dejana Baboška in Barbare Furjan »V imenu resnice« – ta film sem jaz pošteno skritiziral (https://beta.publishwall.si/roman.vodeb/post/319973/v-imenu-ciste-resnice). Praznik se je na svoje FB-zidu norčeval iz te moje (legitimne) psihoanalitične interpretacije simbolike rdeče zvezde. Levi (sadistični) komentarji so med seboj kar tekmovali, kdo me bo bolj žaljivo prizadel. Že omenjeni režiser Dejan Babošek me je prav priklical h komentiranju. Z nekaj replikami sem jim sicer »gobce zavezal«, vendar sem (spet) romal tudi na block za en teden. Prijavil me je (Meščev) levičar Gorazd Grošelj (ki ima na svoji profilki na FB tudi rdečo zvezdo oz. simbol Levice). Ali je tale stavek tako nesprejemljiv (glede na to, da se je 50 ljudi gnojnico po meni zlivalo)?! """Gorazd, in ti imaš rdečo zvezdo še na profilki - drkaš (nanjo) si ga pa verjetno z levo."""
Takole so se me lotili: Joži Umek: Še nikoli ni nič pametnega povedal, tokrat je pa prekosil samega sebe. Bog, če je kje, se ga usmili. -- Mir Bednarski Berden: To sm že napisal, na to temo, da ni on psihoanalitik ampak psihobolnik. -- Sine Jerovšek: In ga je kler prbil na lesen podstavk da jm n uide (pred leti je iz južne amerike indijanka to komentirala ,kako so belci neumni! -- Mira Juhtman: Psiholog, ki je potreben ene ornk terapije. Ha eni modeli pa iz sebe delajo navadne majmune, kaj nuca diploma,če pa je zblojen, da že več ne ve kaj gobezda. -- Tine Kocmur: A to je psiholog. Jaz mislim,da je psihični bolnik. -- Helena Vertačnik: da dol padeš :D -- Anton Rozman: ali ima ta psiholog kaj otrok???? -- Franc Kalšek: Ta pa ni čist diht. -- Lilijana Lili Remec: Hahahaha, ma kaka mona,hahahaha -- Oblak Nataša: Pa kaj se bodo spomnl se.. sam ocitno je niso vidl od bliz k take gobcajo.. marsikaj pove o njihovi usmerjenosti -- Sajnires Paje: Čas, da si eno najde... -- Dejan Babošek: Ha ha ha ker seksualno podhranjeni bolnik je Roman Vodeb :) -- Gorazd Grošelj: O groza, kakšen bolnik. Upam, da s kakšnim strokovnjakom (in ne šarlatanom, kot si sam) razrešiš svoje neizživete seksualne frustracije. Tvoji problemi s samim seboj so že znani celi Sloveniji. -- Radoljub Milosavljević: Kaj pa vem, men se pa zdi, da je bilo to revše od Vodeba v ranem otroštvu prehitro odstavljeno od cuclja, in se kasneje nikoli več ni opomoglo...! :P -- Bojan Kukanja: O bog,usmili se takšnih. Saj ne vejo,kaj delajo. -- Roman Marguč: Ni čudno da je folk zbegan, če imamo takega psihologa. Po moje kar samega sebe zdravi. -- Anis Licina: Hmmm jaaaaa zato sem vedno potreben ko vidim rdeco zvezdo. NOT!!! Te psihologi/psihijatri/psihozerapevti so za v norisnico -- Antonija Blatnik: Hud pacient -- Dušan Verbovšek: Od kod je pa ta pametnjakovic pobegnil ???? -- Zdravko Červ: Naj analizira še naprej, več kot o zvezdi je povedal o sebi. Saj ga ni treba resno jemat. -- Anton Iskra: Do sedaj sem mislil, da na studij psihologije sprejemajo normalne ljudi...kot kaze sem se ustel. …
Ti komentarji so se zgolj v enem dnevu znašli na zidu dotičnega Braneta Praznika. Komentarjev je še bistveno več. Moj twitt in karikatrua pa so preko 100-krat delili. In tudi na drugih zidovih se zliva gnojnica po meni.
Da ne govorim, kaj na Twitterju delajo desničarji zaradi mojih prolevičarskih pogledov na NOB, partizanstvo in socialistično revolucijo … (Pred kratkim je bila tudi 39 obletnica Titove smrti … - in nisem ostal nem.) Biti Vodeb je težje kot biti Janša in Kučan skupaj …
Psihoanalize v bistvu nihče ne razume … Zato naj rečem: »Težko meni (tudi v bodoče)!«
PS1: Nobenih "brezbožnih partizanov" nisem nikoli omenjal - ker cenim in NOB in partiznastvo in socialistično revolucijo!
PS2: Če pa vendarle kdo misli, da morda le kaj vem – evo: https://www.roman-vodeb.si/