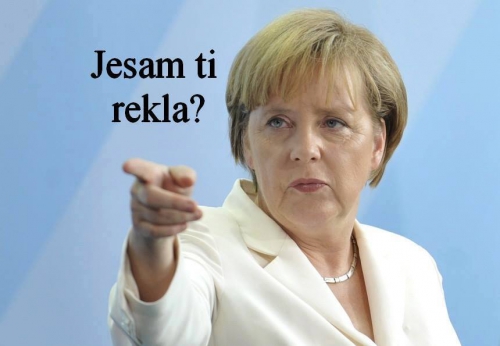 Angela Merkel: Zaprtje meja bi lahko vodilo v vojno na Balkanu. Ne želim biti glasnica zle usode
Ti Angela si že sedaj glasnica vseh pizdarij, kar jih preživlja Evropa, samo še vojne ti je treba ja, zaradi tebe baba smotana, zaradi tvoje nenasitne poželjivosti, ne racionalnega in samovoljnega razmišljanja, smo zagazili zelo globoko v EU. Hujskala si naše desničarje, naj ti prodajo podjetja, takrat so ti še sledili, sedaj pa te pljuvajo, kam je šla in se izgubila vsa vaša simpatija?

Za sabo si potegnila vso Evropsko politično mafijo, levih in desnih, samih naivnih Evropskih politikov, ki so ti sledili, kot mala piščeta kokljo in nasedali tvoji ne odgovorni, samovoljni in spletkarski politiki z Ameri. Tvoje simpatizerstvo z Ameri, njih politika in tvoja vodijo vso Evropo in svet k uničenju. To so nekateri tek sedaj spregledali, še pred meseci dni so ti lizali noge, sedaj pa te prezirajo, dejansko bi lahko rekel, da te na mrtvo sovražijo. Vsej Evropi pripravljaš, da bi za Nemčijo gradili imperij, tega se Nemčija poslužuje, že ves čas v svoji zgodovini, da se bogati na plečih drugega naroda, to si želiš Angela tudi tokrat, kajne?, prava hinavka!

Namesto, da bi strmela k stabilizaciji Evrope, si s pomočjo in dogovori z Ameri naselila med kristjane v naši Evropi, na tosoče vojnih ubežnikov in teroristov muslimanske veroizpovedi, ki se bodo težko osredotočili in znašli v tej sredini med katoliki. Ne bo dolgo tega, ko bodo, v tvoji Nemčiji in na ozemlju pridruženih članic izvajali razne pizdarije, katerim ne bo več moč pobeči, upam, da jim tudi ti sama ne pobegneš, sicer se taki umazanci vedno izvlečete na varno, nedolžne ljudi pa pustite na cedilu...