Demokracije se ne se v naši družbi sploh ne upošteva in je na en način že zdavnaj iztrošena mrtva!..., sama dejanska že dolgoletna zasnova, pa že dolgo ni več živa!... Ime tega sistema služi le za zavajanje folka, po vseh državah unije in večini sveta, zakaj? " Da bi vzvodi moči, mafijskega neoliberalizma obvladovali rajo skorumpirancev in simpatizerjev glavnih akterjev, še posebno na tleh Evrope in Amerike!"
Po večini se ljudje pri nas v Sloveniji zelo dobro zavedamo, kako stojijo stvari in kam nas vodi nategovanje zamisli oblasti, samo čutimo ne moč, da bi kaj spremenili!... Nekaj nas je, ker vidimo jasne vzvode teh rešitev, le zavest mnogih je še vedno priklopljena, da razmišljajo o nemogočem, neizvedljivem!... in tako se ves čas vrtijo v začaranem krogu. Velik vpliv pri nas v Sloveniji je prav v tem, da je narod preveč razdvojen, že skoro sovražno nastrojen in to nas zavira pri jasnih odločitvah možnega.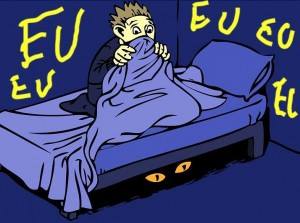 Potrošništvo je glavni parazit za pranje mozga!..., še posebno za preproste ljudi, prav na tem pa mafija še posebno insistira, da bega in zavaja ljudi, jih sili k razpuščanju, neuvidevnosti realnega stanja in še zdaleč ne k druženju!... Bože nedaj, da bi razmišljali o samooskrbi in druženju, vzpostavljanju zdravih človeških in družbenih odnosov! Zavedati se moremo, da peščica potrebuje množico, kar dokazuje njihovo oblikovanje javnega mnenja. Ko nam govorijo o prednosti EU, se moramo poglobiti v pomanjkljivosti EU, ker je to najbrž bližje resnici. Govorijo tudi o prednosti evra, moramo analizirati stanje in se posledično sprijazniti s škodo, ki nam jo povzroča evro ljudem in gospodarstvu šibkejših držav evro-območja.
Samo pri nas bo narod še vedno nasedal, to se bo še kako videlo v predvolilnem času!..., težko bo združevati in osveščati narod, ki je razdvojen!... Dve leti se že mučim prav na osveščanju združevanja!..., koliko je bilo napisanih in objavljenih raznih zapisov, ki so jih objavljale tudi časopisne hiše!..., pa ni bilo tistega pravega odziva od ljudi!..., zakaj?..., zato, ker so nas akterji mafijskih strank skregali, razdvojili.
Težko, zelo težko bo najti slogo med Slovenci, vse preveč smo že zabredli v govna mafij in lobijev, ki aktivno delajo le na tem, da bo obveljala njih presoja, se še naprej povezovati in graditi na skupni Evropi. Njih cilji so jasni kot beli dan!..., kako bo pa z državljani, jim pa še zdaleč ni mar!..., vse kar govorijo in nalagajo so prazne besede obljub, ki smo jih že vajeni, samo nas nikakor ne izuči!... Ne nasedajte veliko raznim analizam priljubljenosti!..., to so samo zavajanja elit in nič resnice. V tem primeru nam tudi novinarske hiše, delajo veliko škodo, ker nas državljane samo zavajajo.
Mi državljani pa kot že po utečenem kopitu, nič od nič!..., koliko časa še, se sprašujem, pa čeprav sem se v dveh letih prepričevanja ljudi o združevanju, naučil in preocenil, da nam ni pomoči in smo daleč, daleč od realnih sprememb in od Skandinavskega življa, ki je še kako odločen in ne popustljiv, ko se gre za narod-ljudi!..., mi smo le senca njih v mentaliteti...