Točno tako, zakaj bi branila naša vojska nekaj, kar že davno tega ni več naše Slovensko. Vsi ti oblastniki do sedaj, so delali le na razprodaji pomembnih firm, gozdove pošenkali bandi RKC-ja, razprodali so celo naravne dobrine in veliko vsega je naštel že sam

Branko Soban
Čemu biti v zavezništvu NATA, ko bi za naše potrebe zadostovala že skromna naša vojska, obveznih nabornikov in ne, da se špilamo prestižneže v svetu, denar se krade, da ga za vojsko ni, ostalo nam pobere že nenasiten NATO. Namesto, da vlagamo v svojo vojsko, plačujemo Amerom pridružitev, za povrhu vsega, pa so še naši vojaki izpostavljeni smrti povsod, kjer so vojna žarišča. Kaj nam je potrebno tega, zavraga, čemu?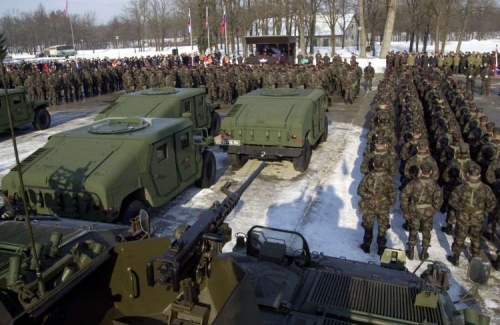 Se vsaj sploh kdo od državljanov, kdo od pristojnih v državi kdaj vpraša, kam je šel ves ta denar od razprodaj?..., kje je denar pokojninske blagajne, ki je bil odtujen in nikoli vrnjen, kje je denar iz raznih zadolžitev Slovenije, ki ga je bilo veliko več, kot je bila nekoč zadolžena vsa Jugoslavija, kje so vsi ti milijoni- milijarde?... Kje je bilo ves čas računsko sodišče, organi pregona za gospodarski kriminal, ki ga je bilo in ga imamo še danes pri nas?..., kaj delajo in so delala ves čas tožilstva, komisija za preprečevanje le tega, sodišča.
Vsi so zajebali, očitno tudi sami prav fino kasirali od vsega tega. Kje so še vse druge goljufije, ki se počnejo na DUTB in po raznih drugih bankah, NLB, pranje milijonov in še in še bi lahko našteval!..., ima sploh smisla? NE!..., nima ga, ker če državljani še toliko vpijemo, se deremo, pišemo, se nič ne ukrene od vse lumparije pri nas. Vlak pelje in še bo peljal naprej po že utečenih starih tirnicah.
Družba draga, tudi, če pride ZL ali SMŠ v koalicijo in da se rešimo čim več teh starih desničarsko- namišljenih in pokvarjenih kristjanov, Cerarjev in vse te goljufive stare navlake, ne bomo spremenili veliko, ZAPOMNITE TO!... Tik pred volitvami smo in kot je videti po pisanju na spletih, boste ljudje spet nasedali raznim pokvarjencem, ki želijo to Slovenijo uničiti totalka!..., namesto, da bi te dve leti, odkar sem trobil, prisluhnili, se združili in združeni bi lahko veliko dosegli in spremenili.
Samo ne!..., brez smisla vam je bilo govoriti, trobiti, pisariti, vas osveščati, kakor bo tudi sedaj ob volitvah. Delate še naprej, kakor želijo drugi, stranke, njihovi akterji, njim prisluhnete, nasedate na limance in jih poslušate, ki so vas pripeljali že do sedaj na sam rob propada. V parlament pa bi sedaj združeni desničarji v poveljstvu dveh prepametnih akterjev, kot je; Primc in Kangler pripeljali spet stare kriminalne cigane, ki so nas že pred leti okradli in to naj bi bili nekdanji pokvarjeni poslanci, kasnejši zaporniki. Vprašam vas družba, kaj res potrebujemo v parlamentu te stare znakaze kriminalcev, kot so;
Franc Pukšič, Pavel Rupar in Mirko Zamernik

in z takimi sprega Kangler in Primc.

Ni vas izučilo in ne date se slišati, da je pri nas potrebno menjati družbeno ureditev, (DRUŽEN SISTEM, NOVO UREDITEV!) novi zakon o volitvah in ustavo! Družba, ta roparsi sistem neoliberalov nas bo pokopal!... in dokler se ta ne menja, bo samo še slabše in slabše, zapomnite že končno!