Objavil/a
Ana Kos
, dne 2014-04-15 ob 19:47:18
In smo že tik pred veliko nočjo! Tapridni ljudje imajo že vse bolj ali manj pripravljeno, skorajda pečeno, skuhano
(no, jaz seveda nisem med njimi!), a vendar bi morda koga zanimalo naravno barvanje pirhov.
Jaz sama od naravnega barvanja zaenkrat zares poznam samo barvanje s čebulnimi olupki (suhimi lupinami). Jajca kuhamo skupaj z olupki - in to je vse. Lahko pa jajca pred tem okrasimo z listki ali čim drugim (listke ali cvetke zmočimo, da se lepše primejo jajčne lupine) in zavijemo vse skupaj s kakšno tanko tkanino (najboljše so ženske tanke žabe, ki niso več za na noge), da med kuhanjem ne pade stran.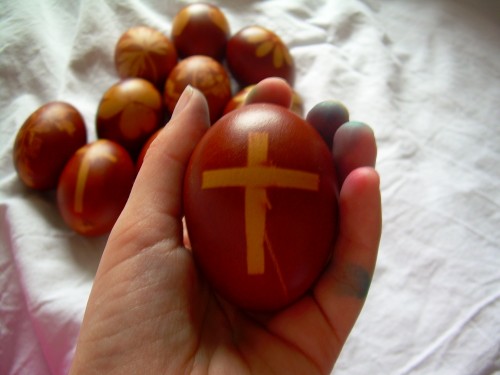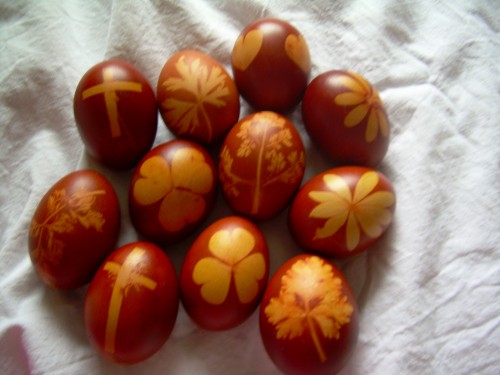 Pirhi so lahko cele male umetnine, vsak posebej. Mi doma smo doslej najpogosteje pobarvali kuhana jajca kar z voščenkami in jih potem dali v barvo, v tisto iz trgovine.
To je preprost način, kjer lahko sodelujejo otroci že od najnežnejših let naprej. No, kakšno jajce se že kdaj skotali pod mizo ...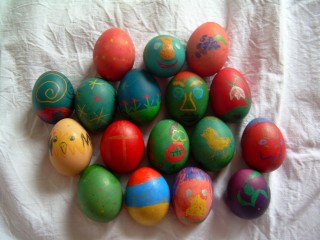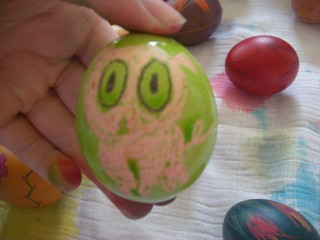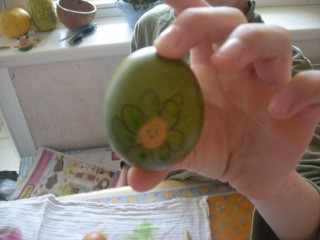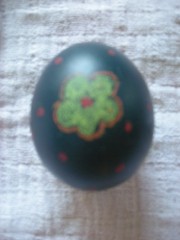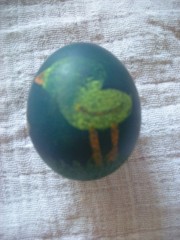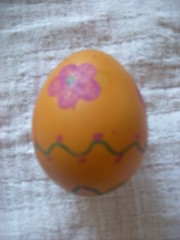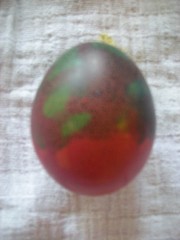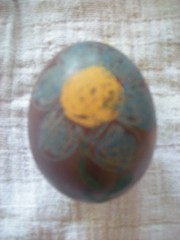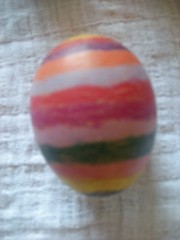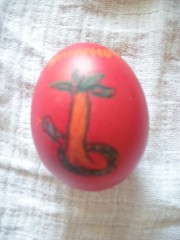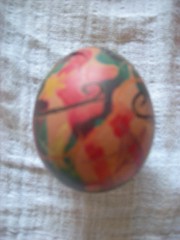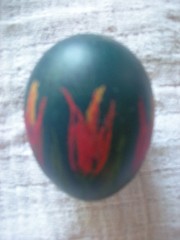 Morda pa letos poskusimo barvati le z naravnimi barvami! In ne le z olupki čebule, kar pač že znam, temveč še kako drugače - taki pirhi so lahko zelo zelo lepi!
Kaj še bi lahko uporabili za barvanje?
Za rožnate pirhe:
- tekočino, ki ostane od rdeče pese - v to damo kuhat jajca
- že kuhano jajce damo v grozdni sok z malo limoninega soka
- jajce kuhamo v šipkovem čaju
Za rdeče pirhe:
- teran
- kuhamo v suhih lupinah rdeče čebule
Za skoraj črne pirhe:
- kuhanje v pravem čaju
Za oranžne pirhe:
- v vroči vodi raztopimo nekaj žlic rdeče paprike in v tej tekočini kuhamo jajca
Za rumene pirhe:
- v vodi najprej skuhamo skodelico ognjičevih cvetov z malo kisa in soli, nato precedimo in v zavretku skuhamo jajca.
Za rumene pirhe lahko uporabimo tudi olupke jabolk zlati delišes, mleto kurkumo, žafran v prahu, kamilice, suho bezgovo cvetje, korenje
Za zelene pirhe:
- kuhamo špinačo, zeleni čaj, koprive, preslico, kislico in regrat, potrebujemo tudi kis, skuhana jajca se morajo v tekočini tudi ohladiti.
Nežne zelene odtenke dosežemo s kuhanjem jajc v zelenem čaju;
Za rjave pirhe:
- kuhanje skupaj z olupki čebule.
- vroče trdo kuhano jajce namočimo v skodelici instant kave z dodatkom kisa ali limoninega soka (1 žlička na 2 dl kave)
- jajca kuhamo v precejeni instant kavi ali turški kavi; odtenke barve reguliramo s količino kave.
Za vijoličaste pirhe:
- rdeče zelje
- suhe lupine rdeče oziroma vijoličaste čebule
- jajca kuhamo v zavrelici iz enakega razmerja vode in soka iz črnega ribeza
Dodatek kisa naredi barvo močnejšo, toda preveč kisa mehča jajčno lupino, zato ne pretiravajmo. Na 2 dl je dovolj žlička kisa.
Prepustimo se ustvarjanju!

Lahko se prepustimo tudi presenečenju, saj se vedno (najprej) učimo.

Kaj pa pirh sploh pomeni?
Lahko pomenijo kaplje Jezusove krvi.
A meni je še ljubši tale pomen: Jezusov grob in hkrati življenje.
Piščanček s svojo močjo, ker je živ, prikljuva iz jajca, premaga lupino!
Prav tako je Jezus, ker je (bil) živ, lahko premagal stene groba!
S tem nam simbolizira velikonočno sporočilo: Aleluja! Jezus je vstal!
Pirh ponekod imenujejo pisanica ali pisanka, posebno znane so belokranjske pisanice, ki so res prave umetnine (spadajo med najlepša velikonočna jajca v Evropi). Tradicionalne velikonočne jedi so poleg pirhov še hren, ki predstavlja žeblje, s katerimi je bil Jezus pribit na križ, potica kot simbol trnjeve krone in šunka, ki simbolizira Jezusovo telo.
Jajce je prastar simbol, ki se je pojavljal v skoraj vseh preprostih in razvitih svetovnih religijah. Tako kot Kitajci, so tudi Tibetanci, Indijci, Inki, Egipčani, Grki in mnogi drugi vsak na svoj način govorili o kozmičnem jajcu.
Barvanje jajc je že star običaj.
Sprva so bila jajca le rdeče barve, kar pove tudi izraz "pirh".
Izraz pirh je soroden izrazu piros, kar v madžarščini pomeni rdečo barvo, v grščini ogenj, češka beseda pyrěti pa pomeni pordeti. V Prekmurju pirhom pravijo remenice, kar izhaja iz besede rúmen, kar v prekmurskem narečju pomeni rdeč. Rdeča barva ima prav poseben pomen, saj med drugim simbolizira tudi sonce, energijo, ogenj, ljubezen, srce, obnovitev življenja, zdravje, moč, vero ... (zadnji odstavek je iz nekega vira, ki si ga pa nisem dobro označila.)
Tukaj pogovor z otroki o(b) pirhih
Prebrala sem tudi nekaj drugih virov, npr:
http://www.kmetija.si/new/content/view/1889/142/
http://dominvrt.si/clanek/moj-projekt/video-pisanice-v-naravnih-barvilih.html