Objavil/a
Ana Kos
, dne 2016-11-24 ob 13:21:22
Ugotavljam, da sem pozabljiva, včasih iščem stvari, ki so na dosegu rok, pri pisanju naredim več napak, kot sem jih včasih, in manj jih opazim - tako da jih težje popravim ;) (Res je tudi, da sem nekoliko spremenila pogled na zapise: če berem tekst, ki ga je napisal nekdo drug, skušam videti "po njegovo" in tako nisem vedno gotova, če je nekaj narobe ali ne - kajti pisec je morda mislil povedati kaj drugega, kot se meni zdi).
Skratka, včasih sama sebe vidim kar nekoliko dementno.
No, pa me je presenetilo, ko sem enkrat malo za šalo malo zares reševala nek test, ki pa je pokazal, da sem kar ok :)
Zdajle sem reševala tale japonski test in ugotovila, da so moji možgani mlajši, kot je mojih let :) Pa ko že kar nisme imela upanja ;)

Baje je takale telovadba za možgane dobra. Dejstvo je, da učenje možgane aktivira. In je proti demenci.

---
Kolikokrat se spomnim ene starejše gospe, ki je klicala hčerko, naj pride domov in jo odpelje v bolnišnico - bila je tedaj že zelo bolna. Ko je hčerka prihitela domov, je mama - reševala križanko - brez vsake panike. No, potem sta se v miru odpravili v bolnišnico - gospa po tistem ni več preživela veliko dni ... Skratka: njeni možgani so delali tudi zadnje dni!
---
Brala sem neko brošuro, namenjeno dementnim ljudem in njihovim spremljevalcem - in skušala narediti neke tam predlagane vaje. Razmišljala sem, kako bi to vajo predstavila, razložila dementni osebi. Potrebno se je prijeti za ušesni mečici in to tako, da sta roki prekrižani, torej z desno roko levo mečico in obratno. Potem pa je potrebno iti v počep in zraven pravilno dihati. No, vse to sem jaz počela in skušala razložiti, kdaj dihati in kdaj ne. Pa to je skoraj tako, kot bi dojenčku rekel, kdaj naj vdihne in kdaj izdihne!
Vsekakor je ta vaja, s katero sem se jaz trudila, imela vsaj en dober učinek: spravila je v dobro voljo nekega dementnega človeka, ki se je iz srca nasmejal mojim poskusom razložitve in ponazoritve vaje :)))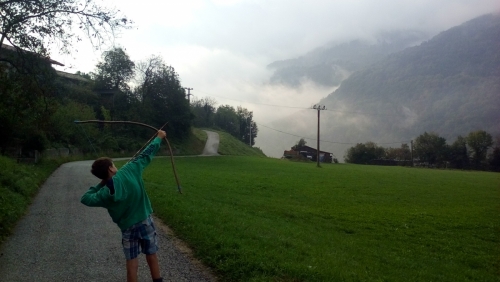 Moj sin tudi takole preizkuša svoje možgane!
---
Preizkusite še vi svoje!
Preveri, če so tvoji možgani stari toliko kot tvoje telo ali STAREJŠI!

Upoštevaj ta navodila, saj je igra japonska:

1. klikni START
2. Počakaj da odšteje 3-2-1
3. Zapomni si položaja številk na ekranu in nato klikni krogce po vrsti
od NAJMANJŠE do NAJVEČJE ŠTEVILKE.
4. Na koncu igre, ti računalnik izpiše koliko let so stari tvoji
možgani

Klikni na spodnjo povezavo: