Objavil/a
Ana Kos
, dne 2018-03-17 ob 00:22:04
Vsako lepo sešijem majhne knjižice, vsak moj učenec dobi svojo. In potem vsak piše svoje sveto pismo. Svetopisemske zgodbe, o katerih se pogovarjamo, kakšno pa tudi sam po svoji izbiri.
Pred kratkim so tako moji drugarčki pisali in risali svoje svetopisemske zgodbe, nekateri te, o katerih smo se pogovarjali skupaj, kakšen je pa pogumno poiskal svojo. Kakšno, o kateri je recimo slišal pri maši.
Ponavadi naredimo tako, da zgoraj na majhno napišemo, kdo je napisal tisto zgodbo oz. v kateri knjigi v SP je zapisana, npr. Mojzes, Jona, Psalm, Matej, Luka ... Spodaj napišemo na kratko, o čem govori zgodba, npr.: Jaz sem trta, vi mladike ipd.
Otroci rišejo in pišejo, sprašujejo, se posvetujejo ...
Sklonim se k eni deklici, ki zavzeto barva! Ustvarila je prelepo slikco.
Povodnega moža! Prizor iz pravljice o povodnem možu!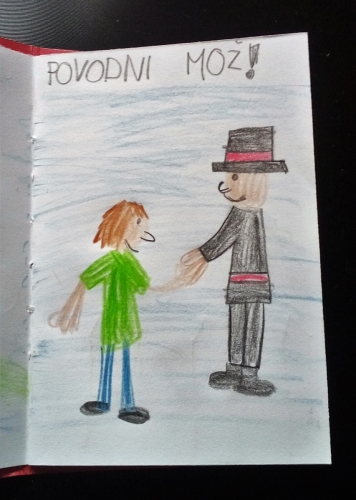 "To pa ni zgodba iz Svetega pisma," povem.
Deklica je v zadregi. Ko to vidim, pa rečem:
"Ah, veš kaj, nič hudega. Prepričana sem, da bi bila ta pravljica Jezusu všeč!"
Deklica se nasmehne!
Ja, gotovo bi Jezus razumel to pravljico in gotovo bi mu bila všeč, tako kot je meni. Zato jo včasih povem otrokom! Želim namreč poudariti vrednost doma, bratcev, sestric, staršev.
Jezus je poudarjal stvari, ki so resnično vredne.