Objavil/a
Ana Kos
, dne 2018-04-11 ob 23:26:11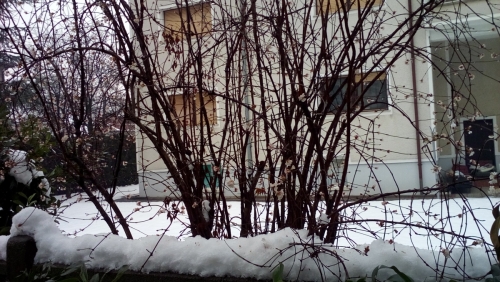 V ozki uličici s kolesom prehitevam gospo, ki mi pove, da gre gledat "kosovca". Malo naprej je, tam čez cesto.
"Morajo hitro odpeljat. Prihajajo mrhovinarji." Predstavljam si lisice, miši, podgane, kar pozabim, da sem v mestu!
"Vse raznesejo."
Končno mi kapne, da so mrhovinarji ljudje!
"Pa saj je v redu, če odnesejo ljudje, ki kaj potrebujejo. Na kosovcu je mnogokrat kaj dobrega."
"Nič ne potrebujejo. Taki z beemweji že ne. Ravno prej sem eno tako videla!"
"Ampak zakaj ne bi vzeli, če je za stran? Če ljudje potrebujejo ..."
"Nič ne potrebujejo!" vztraja gospa!
Potem se gospa obrne proti svojemu domu, zadovoljna, ker tokrat pri kupu za odvoz ni "mrhovinarjev".
Jaz se počasi peljem mimo in si malo ogledam kup. Prav na vrhu je stolček za hranjenje dojenčka! Videti je prav dober. Še si ogledujem. Oprema za otroke, napihnjene žoge, šolska torba ...
Odpeljem se naprej. Amapk najraje bi pobrala dobre stvari in jih dala naprej tistim, ki potrebujejo.
V glavi so se mi pa pletle misli, v čem je pravzaprav problem za tisto gospo.
V tem, da bi s kosovca kaj vzel človek, ki ima beeweja? Kar pomeni, da je bogat??
Ali gre morda za to, da če je nekaj za stran, je pač za stran!! Nihče se naj ne dotika kupa, ki je za stran!!
In potem še, se gospe zdi, da nihče ne potrebuje recimo otroškega stolčka za hranjenje?
Mene je vse bolj groza ob tem, ko toliko stvari konča na smetiščih - in to je v resnici strašno. In to dobrih stvari!
Jaz mislim, da bi lahko bili hvaležni, da kdo vzame s kosovca kaj uporabnega ... bolje, kot da tisto konča zmleto na smetišču ...
Pa četudi vzame s smetišča kdo, ki je morda celo bogat! (Mogoče je pa bogat zato, ker je skrben s stvarmi?)