Kot je že Mitja napisal, sem se jaz v soboto podala na Gorski maraton štirih občin. Ni bilo prvič, tale krogec sem opravila že večkrat, enkrat sva z Mitjem zaokrožila celo dvakrat v enem dnevu, nazadnje pa leta 2010, ko sta bila štart in cilj še na Petrovem brdu. Trenutno imamo doma precej stvari na urniku, od selitve, iskanja služb, do običajnega družinskega življenja, kamor skušamo stisniti čimveč tekaških kilometrov, zato se s svojim tekom nisem prav dosti ukvarjala. Po eni strani je to dobro, po drugi pa…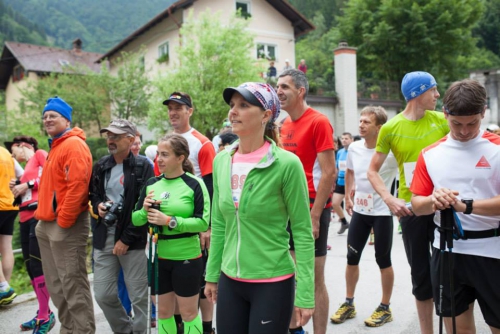 Po tem, ko se ultraši podajo na Pušeljc, imam dve uri ljubega miru, da se pripravim na svoj štart. Leteči štart je zelo fajn pogruntavščina, nobene gneče, tak miren in lep začetek teka. Ko se pot obrne navzgor, pa kmalu vidim, da ni moj dan. Ne gre. Ne vem, kaj točno mi manjka, ampak gre počasi. Vsaka stvar je za nekaj dobra, tako imam več časa za kramljanje s sotekači, prav luštno se imamo. Verjamem, da se bom bolje počutila, ko se bomo začeli spuščati s Črne prsti, pa ni tako. Spet je to dobro, da z vsakim reševalcem malo pokramljam, ravno tam so bili prijatelji iz novogoriške reševalne skupine. Zelo zvito se domislim, da lahko dolgo majico pustim pri zdravnici Tatjani, da je ne bom tovorila s sabo (joj, kako bom to obžalovala!). Tudi na okrepčevalnicah se precej ustavljam, prav nič ne hitim (saj ne morem). Nekaj kilometrov nad Hudajužno prav zoprn občutek v želodcu, počutim se kot napihnjen sod. Kar je po drugi strani dobro, saj imam končno izgovor za svojo počasnost. Po nasvetu Tatjane, sotekačice, s katero sva klepetali večino poti, v Hudajužni spijem dva kozarca kokakole in res je v želodcu malo boljše. Tako durniški klanec mine brez težav, seveda tudi precej veselo ob vseh prijaznih okrepčevalnicah, harmonikah, lovskih šalah in še čem.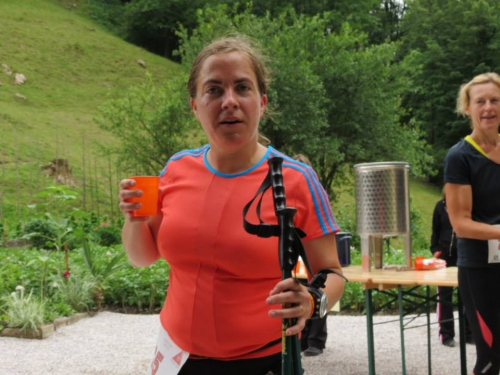 Nad Durnikom pa se ulije. Veter, megla, mrzel dež. Sama se prebijam po gozdu, upam, da bo ploha hitro šla mimo. Ko pridem iz gozda pod Poreznom, se ujma šele dobro razvije. Kar nočem misliti na to, da sem v kratkih rokavih, da me bičata močan veter in leden dež. Hitim, prvič danes hitim, moči mi niti ne manjka, čakam kočo. Preklinjam, zakaj sem majico pustila Tatjani! Načrtujem, kako bom prosila za vrečko za smeti, da se ogrnem. Pred kočo pa skoraj ni žive duše, le en možakar navdušeno razlaga v eno črno škatlico, kako je metla za tadolgo že mimo, kmalu bo tu že metla za takratko. Vase vlijem kozarec tople juhe in brzim dalje, ne morem se ustaviti, saj bi zmrznila. Hitim po grebenu, ko začne grmeti, joj, tega pa res ne maram! Ne vidim ničesar, gledam pod noge, čakam, da pridem v zavetje gozda. Zebe, zebe. Končno se začne grmovje, kmalu tudi gozd, zavetje. Ampak, seveda, nova težava. Blato! Na začetku še poskušam nekje ob strani, da ne stopim s celim čevljem v blato, kmalu vidim, da nima smisla. Brodim po blatu, ampak drsi! Vseeno se počutim bolje, manj me zebe, ne grmi več. Počasi napredujem skozi kilometre blata. Vsake toliko mimo mene pritečejo drugi tekači, drvijo naprej. Vam ne drsi, sprašujem.
Končno nekaj cesti podobnega, nova vesela okrepčevalnica, fantje mi ponudijo pivo, kar ustavim se in pomenkujem z njimi. Odvlečem se naprej, pridem na makadamsko cesto, slišim veselo dogajanje v cilju. In tam proti zahodu modro nebo, lepi razgledi proti Črni prsti! Sicer se cesta vleče, ampak mislim, da se mi ne more nič več zgoditi. Nato srečam Natalijo, zaradi hudih bolečin v kolenu počasi sestopa s Porezna. Ne vem, kako ji pomagati, s težkim srcem tečem dalje. Po sedmih urah in pol končno veselje v cilju!
Po tem ko preverim, če so vsi moji ljubi srečni in zdravi, se zavlečem v kombi, oblečem v vse, kar imam, zavijem v dve odeji in dobre pol ure drgetam. Na srečo se je zjasnilo, da me greje tudi sonce. Potem srečam Natalijo in Barbaro, družno čakamo in navijamo za ultraše, ganjeno hlipamo na poroki, plešemo in se veselimo pozno v noč. Kot sem napisala v drugem poročilu, nore so te zgodbe, unikatne in nepozabne. Ampak, Kristi je lepo rekel, da niso neponovljive. Komaj čakam na novo!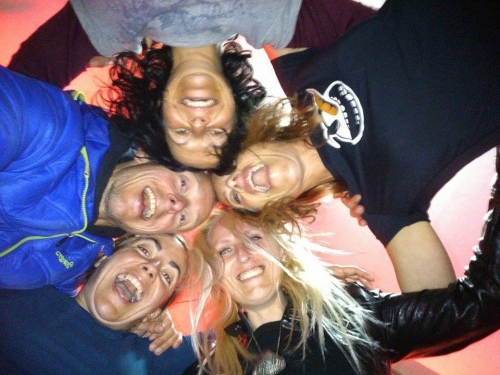 Slike sem si sposodila od Podbrdo festivala, Kališča in Barbare. Hvala!