Kdo pravzaprav je bil Josip Broz Tito?
Josip Broz Tito (1892-1980), predsednik Socialistične federativne republike Jugoslavije, je ostal v v spominu kot najbolj skrivnostni človek 20 stoletja. Obstajajo dejstva, ki kažejo, da je bil prostozidar. Tu bomo pisali le o osnovnih podatkih in dejstevih, o nekdanjem maršalu, katerega je poznal celi svet. Potrebno je vedeti, da je bil njegov pogreb (8. maj 1980 v Beogradu) je najbolj gledal televizijski program doslej.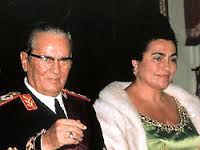 Vprašanje je: Zakaj je bilo ta visokocenjeni človek, tako spoštovan in priznano po vsem svetu?
Evo teorije.. Če je to res, se to točno ne ve, toda tukaj je nekaj teorij o Titu, ki verjetno v veliki meri držijo...
Titov oče je bil Jud Joseph Klein, veterinar, ki je delal na posestvu poljske grofice Marije, v katero se je zaljubil in poročil. V zakonu sta imela dva sina. Eden izmed njiju se je imenoval Jožef, kasneje Tito in drugi se je imenoval Henrih. Vido Latkovic (vodja Oddelka za slovanske fonetike), je analiziral Titovo govorjenje in ugotovil, da je govoril z poljskim naglasom. Joožef je bil mason, član tajne organizacije "prostozidarji". Centri te organizacije so bili Angleška in Francoska loža, kakor tudi veliko število lož po vsej ZDA.
Beograd je bil eden od pomembnih središč evropskega prostozidarstva. Jožef je z bratom sodelovali v oktobrski revoluciji leta 1917. Tito se je pridružil CEKA ali NKVD. Dobil je novo identiteto in bil poslan v Pariz.
V Parizu se je preko Francoske prostozidarske lože pridružil obveščevalni službi (British Intelligence) in tam srečal Churchilla. Churchill je Tita je predstavil v angleškemu prostozidarstvu. Šesti stopnji organizacije, imenovane Titus (pristojni za socialne zadeve). Zato verjetno od tu izhaja njegov vzdevek "Tito" in ne zaradi vojnih operacij, po katerih je širše poznan kot Tito. Tito je imel majhno torbico, katero je vedno nosil s sabo. Po njegovi smrti, so člani komisije Titove zapuščine, našli seznam avstriskih častnikov, podčastnikov in vojakov ubitih v bitki v Galiciji. Seznam je vključeval ime desetnik Franca Jožefa Broza. Sovjeti so kasneje raziskovali Titovo identiteto in odkril in dokazali, da je bil Tito v resnici Joseph Klein, madžarski Jud, rojen v Belgiji.
Tito se je bal Steve Krajacica. Krajčič je lahko nanapovedan prišel do Tita in mu povedal tisto, kar se mu drugi niso upali povedati. Ta odnos med njima je mogoče pojasniti z naslednjim: Jožef Franc Broz Avstrijski Kaplar, je bil verjetno ubit ali ustreljen v Rusiji.....
Več v nadaljevanju..
.