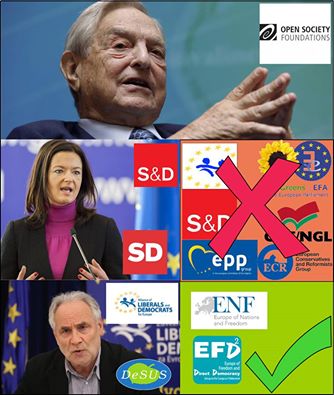 Hekerska skupina DC Leaks je med več kot 2500 objavljenimi dokumenti Georgea Sorosa in njegove fundacije OSF objavila tudi dokument z naslovom »Reliable allies in the European Parliament (2014-2019)« v katerem se nahaja spisek Soroševih »zanesljivih zaveznikov« v Evropskem parlamentu. Evropski poslanci delujejo na visokem, skorajda globalnem nivoju daleč od oči njihovih volivcev, o njihovih odločitvah pa se v medijih zelo malo govori. Prav zato je okolje evropskega parlamenta izjemno ugodno za različne lobiste. Namen tega spiska je ustvariti seznam poslancev, pri katerih bodo člani Open Society Foundation lahko čim bolj uspešno lobirali za svoje politične interese.
Open Society European Policy Institute in Open Society network inteligence sta pridobila podatke o novoizvoljenih članih evropskega parlamenta ter sestavila seznam tistih, za katere je po njihovem mnenju verjetno, da bodo podpirali »Open Society« vrednote. Seznam obsega 11 komitejev (od 22-tih) in 26 delegacij (od 44) ter kar 226 evropskih poslancev (od 751), ki so »dokazano ali pa verjetno« zavezniki Soroševe Open Society.
V nadaljevanju piše, »da bodo osebe, označene v dokumentu po vsej verjetnosti podprle delo Open Society.« »Potrebno se jim je približati brez predsodkov, čeprav bodo verjetno želeli nadaljevati z delom na področjih, ki jih zanima, pa se bodo lahko navdušili tudi nad novimi temami. Open Society mora iti prek individualnih tematik, ter s temi evropskimi zakonodajalci ustvariti trajna in zanesljiva razmerja.«
Informacije o vsakem poslancu, na podlagi katerih so sestavili ta program so bile pridobljene bodisi »s strani javno objavljenih informacij« ali pa tudi z »originalno raziskavo«.
Fajonova in Vajgl med "zavezniki"
Izmed slovenskih evroposlancev sta na listi »Soroševih zaveznikov« Tanja Fajon in Ivo Vajgl. To je še posebno pomembno za slovenske volivce, saj se Tanjo Fajon v zadnjem času v medijih celo obravnava kot morebitno bodočo kandidatko za predsednico vlade.
Tanja Fajon je članica stranke SD in podpredsednica evroskupine S&D, torej tiste, ki ima največje število poslancev na Soroševi listi. Med tematikami s katerimi se ukvarja in pri katerih bi pri njej predstavniki Open Society Foundation lahko lobirali so med drugim: »azil in migracije, svoboda gibanja v šengenskem prostoru, enakost spolov, pravice vseh manjšin, tudi Ciganov in LGBTI«.
Ivo Vajgl je član stranke DeSUS in evroskupine ALDE, najbolj liberalno internacionalistične skupine v EU. Med njegovimi tematikami so zainteresiranost za zunanjo politiko in pravice vseh manjšin.
»Zavezniki« infiltrirani na vse nivoje Evropskega parlamenta
Konferenca predsednikov predstavlja vladajoče telo Evropskega parlamenta, zadolženo za njegovo organizacijo, administracijo in agendo. V njem se nahajajo predsedniki političnih skupin Evropskega parlamenta. Na listi Soroševih »zaveznikov« se nahaja kar 7 od 12 predsednikov in sicer predsedujoči za skupine Socialisti in demokrati (S&D-leva sredina), Zeleni (Greens-liberalna levica), Radikalna levica (GUE/NGL), Liberalci (ALDE – liberalna smer) in Konservativci (ECR-desnica). Na listi se nahaja tudi predsednik Evropskega parlamenta Martin Schulz (S&D – leva sredina), ter 8 izmed 14 podpredsednikov: 2 podpredsednika iz Krščanskih demokratov (EPP-desna sredina), 2 iz Socialistov in demokratov (S&D – leva sredina), 2 izmed Liberalcev (ALDE – liberalna smer), 1 izmed Zelenih (Greens) in 1 izmed Radikalne levice. Izmed 5 quaestorjev (to so uradniki, ki skrbijo za finančne in administrativne interese poslancev) so kar 4-je na »zavezniški listi« - in sicer izmed strank EPP (2), S&D in ALDE.
V skupnem seštevku se med evroposlanci, označenimi za »zanesljive zaveznike« se nahaja kar 82 evroposlancev skupine S&D (od 190), 38 evroposlancev skupine ALDE (od 70), 36 evroposlancev skupine EPP (od 215), 34 evroposlancev skupine GUE/NGL (od 52), 29 evroposlancev skupine Zeleni (od 50) ter 7 evroposlancev skupine ECR (od 74). Med »zavezniki«, pri katerih se jim zdi mogoče lobirati se po besedah portala Breitbart nahaja precej veliko število priseljencev in žensk.
Soros se ne ustavlja pri levo-desnih delitvah, temveč podpira vse liberalno internacionalistične ideje
Jasno je, da se George Soros in njegov OSF ne ozirata na »levico« in »desnico« temveč lobirata pri vsakomur, pri komur jima uspe najti kakršnekoli podobne interese in »šibke točke«. Edine evroskupine, ki nimajo niti enega člana, ki bi ga Soroševa Open Society Foundations dojemala kot »zanesljivega zaveznika« so: Evropa narodov in svoboščin (nacionalistična – tretja alternativa), ki ji predseduje Marine Le Pen, Evropa svobode in neposredne demokracije (EFDD – evroskeptična, različne politične usmeritve), ki ji predseduje Nigel Farage ter nepovezani poslanci (NI).