V medijih smo le bežno zasledili, da je bila v Evropskem parlamentu s 438 glasovi "za", 152 "proti" ter 71 "vzdržanimi" sprejeta nova resolucija, naperjena proti Poljski, ki Poljakom grozi celo z možnostjo izgube glasovanja.
Resolucija se vrši zato, ker so se Poljaki odločili za sodno reformo, ki bo upokojila tiste sodnike, ki sodijo še iz časa sovjetske komunistične diktature, pa tudi zaradi poljskega nasprotovanja vsiljenim migrantskim kvotam, multikulturni politiki, liberalizmu in globalizmu... itd. Bruselj se spotika tudi ob poljski marš za neodvisnost ter narodno zavest, ki jo poljska vlada podpira, Bruselj pa obravnava kot "skrajno desničarstvo".
Poljska premierka je sicer dogajanje v Bruslju opisala kot "protipoljsko orgijo", evroposlanci narodno-konservativne stranke PIS pa so protestno zapustili dvorano. Poljska opozicija je bila razdeljena - a se večji del vseeno ni upal podpreti resolucije proti lastni državi - levica se je tako proti svoji skupini vzdržala glasovanja, del liberalne in proevropske desnice (PO) se je vzdržal, del pa celo glasoval za resolucijo. Načeloma so proti večinsko glasovali nacionalisti (ENF), evroskeptiki (EFDD) ter konservativci (ECR), za pa liberalci (ALDE), socialni demokrati (S&D), evropska ljudska stranka (EPP), zeleni ter radikalna levica (GUE/NGL).
Vladajoča stranka PIS ima močno podporo med ljudstvom, saj jo je po zadnjih anketah podpiralo celo več kot 50% volivcev. Viktor Orban je že napovedal, da EU soglasja za odvzem pravic Poljski ne bo dobila, saj Madžarska Poljsko podpira. Izvolitev pravih narodno zavednih politikov na državni ravni je očitno resnično edini način, ki še lahko ustavlja povračilne ukrepe Bruslja.

Ukrepi in obtoževanje Poljske ter pridiganje o "demokraciji" po tem, ko je EU podprla brutalno špansko reakcijo proti Kataloncem in praktični pregon celotne legitimno izvoljene vlade deluje še toliko bolj puhlo, pa tudi hinavsko. Ker je Španija "zahodna članica" ter je pri njih na vladi "proevropska" stranka, ki je v zavezništvu z Merklovo in Junckerjem - to nikogar ni zmotilo.
Ker niti levi, niti desni mediji o tem ne poročajo, bomo izpostavili, kako so o kontroverzni resoluciji glasovali naši evroposlanci.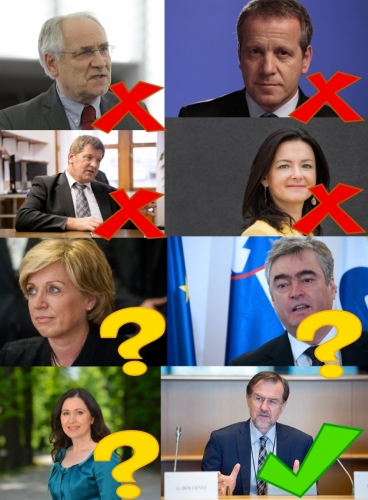 Desus - Vajgl je kot član liberalcev (ALDE), ki so najbolj globalistično usmerjena skupina v Evropskem parlamentu resolucijo podprl. Njegovo podporo smo pričakovali.
SD - Tudi Fajonova je resolucijo podprla, kar smo tudi od nje že pričakovali. Večkrat se je "odlikovala" s podporo migrantskim in globalističnim predlogom, "odlikuje" se tudi na listi "prijateljev Gerogea Sorosa", na twitterju pa je že opisovala akcije proti Poljski.
Igor Šoltes - Šoltes je sledil svoji skupini Zelenih (ki sicer niso v vladi, a so tudi močno naperjeni proti Poljakom) ter skupaj z njimi glasoval za resolucijo.
SLS - Franc Bogovič je skupaj z večino "Merkličine skupine" Evropska ljudska stranka (EPP) glasoval za resolucijo. To je posebno zanimivo zato, ker SLS doma zadnje čase glasno kritizira "Bruselj" - jasno pa je, da so eno besede, drugo pa dejanja. Že dalj časa lahko vidimo, da se ta ne skladajo z besedami.
SDS - Poslanci SDS Milan Zver, Romana Tomc in Patricija Šulin so se glasovanja vzdržali. To pomeni, da se po eni strani dovolj bojijo povračilnih ukrepov svojih volivcev, da niso glasovali za, po drugi strani pa se dovolj bojijo tudi svojih "šefov" - torej Merklove in Junckerja - ki vodita njihovo skupino, in ki sta resolucijo seveda podprla - da niso glasovali proti. Na ta način so se lahko izognili jasni opredelitvi. Ker se SDS doma močno zavzema za "lustracijo", se postavlja vprašanje, če o tem sploh mislijo resno - ali gre tako kot pri "kvotah" in ostalih problemih tudi tu le za cenen populizem in nabiranje glasov - saj je prav ta resolucija naperjena ravno proti lustraciji sodstva, ki jo na Poljskem izvaja vlada.
NSi - Lojze Peterle je edini evroposlanec, ki je glasoval PROTI ter s tem direktno podprl Poljsko, četudi se je moral upreti svoji skupini. Peterle glasuje enkrat za take, drugič za drugačne stvari, a ga lahko pohvalimo, ter mu priznamo, da je za razliko od večine drugih naših evroposlancev človek, ki ima "dovolj jajc", da se vsaj ravna po svojem prepričanju ter ne sledi le "navodilom od zgoraj".
Vir: Narodna Straža