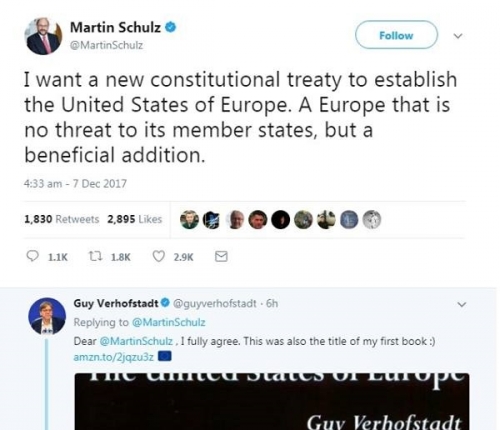 Če je kdorkoli še nekaj let nazaj svaril pred morebitnim preoblikovanjem EU-ja v nekakšen mednarodni imperij, super-državo, federacijo, podobno Sovjetski zvezi ali pa ZDA – mu je marsikdo zabrusil, da verjame izmišljenim teorijam zarote. Če je kdo omenjal načrte »očeta panevropskega gibanja« Richard von Coudenhove-Kalergija iz 20 tih let prejšnjega stoletja, kjer govori o skupni evropski državi, v kateri bodo avtohtoni evropski narodi zamenjani z ljudmi mešane »evrazijsko-negroidne« rase, tej pa bo vladalo »novo plemstvo« - se takih ljudi ni jemalo resno, češ, da govorijo neke blodnje in da se stvari v realnosti seveda ne bodo odvile v to smer.
Veliko lažje se je prepričevati, da je vse v redu. Da se ne bo ničesar zgodilo in, da se bo vse še dobro izteklo. A danes to enostavno ni več mogoče, saj je postalo očitno, da se stvari odvijajo točno v to smer pred katero že desetletja svarijo evroskeptiki – bruseljske elite, ki so do sedaj le namigovale so jasne – želijo Združene države Evrope do leta 2025.
Martin Schulz, nekdanji predsednik evropskega parlamenta ter predsednik evropskih social demokratov in Guy Verhofstadt – voditelj evropskih liberalcev (ki je sicer najbolj fanatični podpornik te ideje) sta po Twitterju javno pozvala da zahtevata oblikovanje ZDE v 8 letih. Schulz je to izjavil kot enega od pogojev za koalicijsko sodelovanje z Merklovo, k temu pa ga je po telefonu spodbudil francoski liberalec in globalist Macron. Elita, v katero lahko štejemo vladajoče leve in desne stranke Zahodne Evrope in njihove voditelje (Schulz, Juncker, Merklova, Verhofstadt, Macron, May, …) torej ne bo dopustila, da jo na oblasti kdorkoli zamenja (četudi na volitvah izgublja tla pod nogami) ampak bo šla do konca in si poskušala zagotoviti prihodnost preko vladavine iz Bruslja. Združene države Evrope pomenijo, da se bomo morale države članice odpovedati svoji narodni samostojnosti in neodvisnosti ter priznati vrhovno oblast Bruslja. Gre torej za neke vrste "prostovoljno" okupacijo lastne države s strani tuje sile – v našem primeru Združenih držav Evrope. Po najnovejših raziskavah naj bi celo v Nemčiji Združenim državam Evrope nasprotovalo 60% ljudi, kar 32% pa naj bi to idejo podpiralo. Mnenje javnosti v takih primerih navadno sicer čedalje manj šteje. Seveda pri domačih politikih, ki bi to podprli ne gre le za narodno in državno izdajo, temveč tudi za izdajo ustavnih temeljev, na katerih stoji republika Slovenija kot suverena in neodvisna država. Politiki, ki takšne stvari podpirajo bi za to morali odgovarjati pred sodiščem (in verjetno v določenem času tudi bodo).
V zgodovini imamo sicer veliko primerov takih ali drugačnih narodnih izdaj – ki so se zgodile večinoma zaradi nevednosti, stiske ali pa celo iz koristoljubja. Med vzponom Nemškega rajha v tridesetih – je ta recimo marsikoga preslepil s svojim tehnološkim bliščem in napredkom, da je navdušeno sprejel lastno okupacijo. Marsikatera država je imela »tuje agente« med komunisti, ki so se navduševali nad ideologijo sovjetske zveze in delovali proti lastnemu narodu. Po vojni pa je marsikomu postala idol ZDA, ki je s pomočjo takih in drugačnih pritiskov odvzemala suverenost evropskim državam. Danes so okupatorji finančne globalistične elite, ki nimajo svoje narodnosti, temveč isti cilj – uničiti države in narode ter njihovo demokracijo ter ustvariti svet mešanih ljudi, ki mu vladajo finančni interesi bank in megalomanskih korporacij. Nekakšen novo fevdalni svet, ki bo demokratičen samo na papirju, v realnosti pa ljudstvo nima nobene druge funkcije kot biti plačnik davkov in delavec v podjetjih. Če bomo dopustili, da postane Slovenija po njenem, manj kot 30 letnem samostojnem življenju spet okupirana s strani tuje velesile – bomo postali generacija, ki jo bodo naši potomci preklinjali.
Primer Katalonije bi moral biti nekaj, kar bi streznilo slehernega Evropejca ter mu pokazalo, da se z lastno suverenostjo ni za hecat. V današnjem svetu so orodja množičnega nadzora – tako preko vojske in policije, kot tudi tajnih služb, spleta, … tehnološko tako napredovala, da nek »upor«, revolucija ali »državi udar« na Zahodu praktično ni več možen – katalonska demokratično in legitimno izvoljena vlada je bila v dobrem tednu aretirana in zaprta. Ko je narod enkrat pod tujo oblastjo na Zahodu torej ni več poti nazaj, mi pa bomo verjetno tisti volivci, od katerih bo že čez pičlih nekaj let odvisna usoda Slovenije.
Besedilo: Narodna Straža
https://www.theguardian.com/world/2017/dec/07/martin-schulz-united-states-of-europe-germany-sdp
https://twitter.com/EuropeElects/status/939560995269349377
https://en.wikipedia.org/wiki/Richard_von_Coudenhove-Kalergi