Objavil/a
Ana Kos
, dne 2018-05-16 ob 20:17:19
Malo pred drugo - ali morda pred tretjo, kdo bi tedaj natančno videl kazalce na ročni uri! - me zbudi vpitje, pravzaprav klicanje na pomoč!
"Pomagajte mi, sama sem, ne zapustite me ..." Vstanem in grem na balkon, da bolje slišim. Res. Vsaj sto metrov stran je najbrž lokacija, od koder prihaja vpitje. Čez glavno cesto, ki je čez dan zelo hrupna, takle čas je pa malo prometa in zato je celo skoraj v centru Ljubljane dokaj tiho.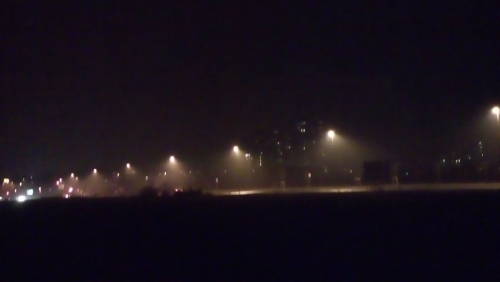 Ženski glas, poln strahu, vpije. "Sama sem, pomagajte mi, zapustili so me ..." Začne ji odgovarjati moški glas, ne razumem vsebine. Ampak čutiti je pomirjujoč. Hitro si čez spalno srajco nataknem hlače, oblečem vetrovko, vzamem mobitel in ključe, še tevice na noge in tečem dol.
Cesta je prazna, tečem čez, kjer sicer res tega ne počnem. Potem čez travnik proti naselju za travnikom. Od tam se še vedno sliši vpitje. Prihitim do stanovanjskega bloka, nekje gor je na oknu senca človeka, v prostoru je tema. Spodaj na travniku sta dva mlada fanta, ta dva gospo pomirjata! Prijetno sem presenečena, ko vidim, da sta to fanta, stara kakšnih 20 let, ob 2h ponoči pokonci in priskočita na pomoč eni neznani gospe!
Gospa je zgoraj v stanovanju in kliče na pomoč. Fanta mi povesta, da so že klicali policijo. Še en njun prijatelj čaka ob glavni cesti, da policiste usmeri, ko pridejo.
Gospa zgoraj vpije, da je sama, da ni luči, da jo zebe, da so jo neki moški nekam odpeljali in pustili samo. Izjasni se, da ne ve, da je doma! Skozi okno pove svoje ime, priimek, svoj naslov.
Mi spodaj jo pomirjamo, da kmalu pride pomoč in upamo, da ko vleče roleto gor, ne misli iti skozi okno.
Pripelje policija, fantje gredo k vhodu, jaz ostanem pod oknom in gospe povem, da je pomoč že pri njej, naj poskusi odpreti vrata! Čez nekaj časa zasveti v njeni sobi luč! Ugotovim, da je torej gospa uspela odpreti policiji vrata in pomislim, mogoče lahko še kaj koristim ... vprašati ni greh. Sploh pa se moram prepričati, da je vse v redu, preden stečem domov.
Uspem priti v blok, hitro najdem pravo stanovanje, saj gospa še vedno govori vsa razburjena.
Potrkam, vstopim. Povem, da sem bila spodaj pod oknom in da sem sicer doma 100 metrov daleč, na drugi strani glavne ceste, a da me je gospa s klicanjem na pomoč zbudila. Ob njej sta policist in policistka, prijazna človeka. Nekoliko se mi verjetno vendar pozna, da imam nekaj izkušenj z dementnimi ljudmi, gospa se me kar oklene in zaupljivo govori, še vedno vsa v strahu. Počasi se zjasni, tudi ona to ugotovi, da je imela hude sanje! Neka gruča moških jo je nekam odpeljala in potem so jo pustili samo. Vtem se je zbudila in sploh ni ugotovila, da je doma.
Pomagam ji se zaviti v odejo, saj jamra, da jo zebe, Bog ve, koliko časa je trepetala premalo oblečena ob odptrem oknu.
Skupaj počakamo reševalce in potem ji pomagam še, da si obuje nogavice, da je ne bo zeblo, ko bo čakala na urgenci ...
No, in potem ji še pomaham, ko je v rešilnem avtu, in stečem čez travnik ... v neki luži, ki je v temi nisem opazila, skoraj naredim špago, komaj se uspem obdržati na nogah, v tevice pa primezi blato - potiho se posmejem sama sebi, kdo bo pa mene zdaj odpeljal na urgenco, če končam v temi v blatni luži ... - in potem sem hitro doma.
Doma vsi spokojno spijo.
Smuknem pod odejo, v tišini noči čutim, kako zelo lepo je bilo vse to. Tolikokrat ne čutimo, da kdo sploh hoče pomagati. Tolikokrat slišimo pripombe čez mladino. A zdaj so se našli trije luštni mladi fantje in prav ti priskočijo na pomoč eni prestrašeni gospe!
Takele "drobne stvari" življenje počlovečujejo in lepšajo!
Sploh v teh časih, ko se po eni strani srečujem s krutostjo in neizprosnostjo nekaterih zakonov in pravil in tudi s kršitvijo osnovnih čovekovih pravic, večkrat naletim na tako lepe izraze pristne ljubezni, da se velikokrat jasno zavem občutja hvaležnosti za sobivanje prav v tem okolju in bivanju prav tukaj med temi ljudmi.