Vse utemeljujejo z lažmi, zapomnite si to!..., laž na laž!... in vse te stranke, ki zagovarjajo prodajo na splošno, ne gre se sedaj samo za NLB, so izdajalske in skorumpirane. V naši novi manjšinski vladi bomo imeli še naprej same hinavce, razen Levice, ki nasprotuje prodaji vsega, kar je v družbeni lasti.
Gre se še za veliko drugih projektov, kakor tudi o zakonu drugega tira, ki je ves skorumpiran, prirejen dobičkarstvu in zoper ta zakon, bi morali državljani, pod nujno nasprotovati še napej. Čemu dajati v dolgoletno lastništvo, del naše nove proge in Luke Koper, nam je res potrebno, da bo Slovenija postala večino v tujih rokah, državljani pa hlapci? Ne!..., tega nam res ni potrebno in je tudi nedopustno, če bomo tudi tej novi vladi dovoljevali, da bo delala in razmišljala le o razprodaji našega skupnega imetja.
Vedite in ne pozabite, kaj vse si je privoščila in dovoljevala predhodna Cerarjeva vlada, čega vse si je prisvajala, kot, da je državna in naša imovina last stranke SMC in kakšen so imeli odnos do državljanov!..., ste morda že pozabili, da smo bili za njih le mali ljudje, sužnji, kajpa! Nad nami so pričeli izvajati počasen genocid!..., kaj pa mislite, da predstavljajo minimalne, obubožane pokojnine, plače, da ne veš. če bi sploh hodil še na delo, socialne pomoči ljudem, ki niso po svoji krivdi brez zaposlitve, temveč po njihovi in predhodnih vlad. Zdravstvo so zjebali do amena, sama ljuba korupcija med odgovornimi zdravniki, ki so na vodilnih položajih!..., o tem smo lahko veliko slišali, ukrepov za sankcije pa nobenih. Čakalne vrste so dvakrat večje, kot pred tem, ko je Cerar prevzel vlado, tako, da si navaden državljan ne more privoščiti pregledov še pravočasno!... in kaj sledi, prezgodnja smrt. Vse to je počasen in zelo dobro načrtovan genocid! Spomnite se, da se je za vodilne v notranji upravi in razne direktorje našel denar za povišico in za preseratorske doktorje!..., za upokojence z minimalko, navadne delavce in ljudi nižjega sloja, pa nikoli dovolj, da bi se jim zvišal količnik pri plačah.
Sramota!... takega človeka bi bilo pod nujno potrebno sankcionirati in brcniti na cesto! Taki stranki, ne bi smeli več dovoliti, da še kdaj prestopi prag parlamenta in še zdaleč ne, da postane ta nesposobni nje predsednik, novi zunanji minister. Se sploh zavedate, kako odgovorno nalogo prepuščamo človeku, ki je nas državljane pripeljal še do večjega brezna, kot smo bili pred leti, predno je prevzel to odgovorno nalogo. Bile so ga le obljube, ki so bile grajene na samih ljubih lažeh!..., to smo kasneje še kako občutili po večini vsi državljani. Pa, da ne govorim, koliko vsega bodo še uničili, če tej novi vladi ne preprečimo delati sranja in nadaljevali bodo delo že po utečenih tirnicah in Cerarjevih zamislih!
Po TV Slov. sem nekaj dni nazaj, poslušal enega prepametnega bizgeca, ki je prepričljivo govoril, da smo prisiljeni prodati NLB in kake sankcije nam sledijo iz Strasboura, če tega ne sprovedemo. Namerno nas zavajajo- obveščajo z lažmi, ker drugače vedo, da bomo protestirali še naprej! Kdo zaboga nas lahko prisiljuje v prodajo, kdo?..., o prodaji in lastnini države, bi se morali posvetovati tudi z državljani in tudi mi bi morali dati soglasje, gremo v prodajo ali pa tudi ne!..., tako velja za vse lastništvo, ki je v družbeni lasti, tudi po drugih državah!... Prosim vas, ne nasedajte tej do amena pokvarjeni, lažnivi politiki neoliberalov in raznim lobijem, ki delajo le za velike svetovne korporacije.
Državljani, ki se ne bomo strinjali z raznimi odločitvami te nove manjšinske vlade, bi imeli lahko velik in močan vpliv!..., le, če se boste pripravljeni pridružiti naši Civilni ZVEZI ljudstva, ki šteje do sedaj, že preko tisoč pridruženih ćlanov in vsaj tri tisoč nas bi moralo biti, da se registriramo in pridobimo zakonito veljavo in moč v tej družbi. Takrat se bomo imeli moč pritožiti na vsa nesoglasna odločanja vlade in zakonito nasprotovati njihovemu početju.
Danes pa smo zmrznjeni in nimamo nobene veljave, kot državljani! Zato vas prosim, pridružite se nam in se vpišite v pripeto objavo na tej skupini, dobrodošli boste! V zvezi bo vsak glas še kako, zelo pomemben, dejansko pa vas pridružitev nič ne obremenjuje, le, da boste z nami, ko vas bomo potrebovali, tudi številčno, v duhu pripadnosti in tesnega sodelovanja. Vabljeni!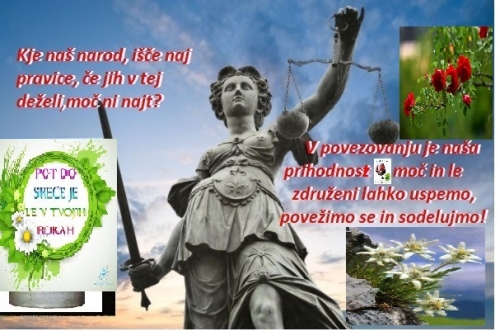 Na tem spletu PublishWalla, pa, če imate željo biti del naše Civilne ZVEZE naroda, se vpišite pod komentar, tega članka, lepo vabljeni!