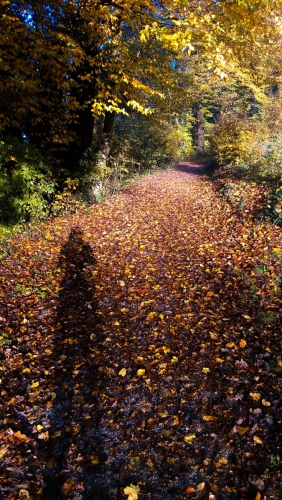 Svet se je malenkost ustavil. Poletje je definitivno mimo. Najprej je bilo to zelo opazno, nato malo manj, zaradi sončnega oktobra, ki me je, resnici na čast, zmerno presenetil, saj sem navajena, da je moj rojstni dan navadno siv in deževen, nič nenavadnega, človek se navadi in si zaradi tega ne komplicira življenja, ali temu pripisuje kakšnih globjih pomenov… Tokrat pa sem to jesensko sonce vzela za nekaj precej samo po sebi umevnega, kot da se to za letošnje leto spodobi in je normalno, primerno in edino dopustno…
Letošnje leto, hm… Kakor se je začelo katastrofalno, s smrtjo in razpadom stvari, tako se je prelevilo v menda eno najlepših let mojega življenja. Brez pretiravanja. In poleg vsega, mi je kristalno jasno, da sem do tega prišla popolnoma sama, morda z delom na sebi, še več pa z izpuščanjem nepomembnih stvari, čustev, negativnih ljudi, misli, strahov… Ne pomnim kdaj nazadnje sem imela tako lepo poletje. Takšno, v pravem pomenu besede. Brez skrbi, brez načrtovanja, brez nepotrebnih komplikacij in zapletov, vsakodnevni večerni odhodi na Krko, vročina, svoboda, ljudje in jaz sama, ki sem bila po dolgem času zelo blizu pojmu tiste izmuzljive sreče o kateri človek sanja. Dejansko. Samozadostnost na višku in večinoma popolnoma brez strahu, kar bi se mi včasih zdelo praktično nemogoče. In potem vse to… Morda je logična posledica, da se je preobrazilo v ljubezen, tisto, ki je niti najmanj nisem pričakovala, tisto, katere sem se celo branila, ki jo slutiš, da nekje je, da bi morala biti, z natančno takšnim, znanim okusom, kot se ti potem zgodi. Sploh ne vem. Ko to omenim, ugotovim, da mi ni do pisanja o njej, o njem… Niti ne vem čemu, človek kot jaz, vendar, s tem svojim klepanjem besed, zadržuje stvari in občutke, ki se mu zdijo pomembni, ali predragoceni, da bi jih izgubil. A človek kot jaz, je kljub vsemu, nekje globoko v sebi sramoma vraževeren. Boji se, da s svojimi neumnimi mislimi, tako pretvorjenimi v besede in stavke, ne bi česa zaklel… Bogme, ljudje premalo vemo o tem kako si sami nacopramo raznorazne situacije. Zaradi predolgega jezika in prstov, ja. In tistega nedefiniranega gona deliti s svetom. Be carefull what you wish for, yes, yes …. Oziroma, be carefull what youˈre saying. Ni vse za vsakogar. Ljudje so pogosto zavistni in zlobni… Namesto, da bi se vprašali zakaj, raje lastno nesrečo pretvarjajo v tujo, na ta ali oni način. Ustvarjajo okoliščine, trenja, energije, ki ta svet vodijo tja kamor pač gre… In energija je neuničljiva, to je jasno. Zatorej ostanem tiho. Povsem razločno pa povem, da sem to svojo ljubezen zmožna braniti z vsakim joulom, ki ga premorem.
Kdaj zaboga sem postala tako eterična? Kdaj sem se preselila na energetsko raven? :D Morda odkar sem ugotovila, da je vse odvisno od tega kako razmišljam. Depresije gor ali dol, človek kot jaz, praktično s tem raste že od malega... Resnični podvig zame je, kako taka stanja preusmeriti, kako ohranjati energijo, namesto, da jo brezglavo izgubljam v ljudeh, stvareh, občutkih, jezi, žalosti, sramu in obžalovanju… Nekdaj sem verjela, da so to stvari, ki te definirajo, zgradijo tvoj karakter… What doesn t kill you makes you who you are in podobna jajca… Brazgotine, ki krojijo tvoj vsakdan, ki ustvarjajo tvojo sliko v ogledalu… Kako se vidiš, kako te vidijo… Pa je vse veliko bolj enostavno. Si, kdor se odločiš biti. A enostaven je le stavek. Izpustitev vse te navlake je v resnici proces, ki zahteva prav vse faze doživljanja. In to z razumevanjem. Od žalosti, jeze, obžalovanja itd., do prepustitve in izpustitve. Rekapitulacija, ja. Nekaj kar sem pogosto omenila, pa niti nisem dobro vedela o čem govorim. Izpustiti in izkoristiti energijo, ki se pojavi na mestu, ki se tako sprosti. Igra, vse je igra. Vse je kreacija. V malem kreirati življenje… Vsaj tiste segmente, ki so v tvoji domeni. Korak naprej je verjetno razmišljanje o tem, da se stvari, če živiš srčno, same postavijo... Stvari, situacije, priložnosti… Marsikdo bi rekel, da vesolje posluša in ustvarja pod tvojo taktirko, če le veš kaj zaboga bi rad, veš v smislu neke ponotranjene gotovosti, ne pa zgolj racionalnega izbirka nekih besed, pretvorjenih v željo, ki je niti sam dobro ne razumeš…. Nekaj v stilu tistega slabega vica o zlati ribici… Ja. Izbira besed je hudičevo pomembna reč. Tako, kakor jaz izpadem spran možgan in njuejdžerka – in bog, kako bi to teplo po mojem egu, ako bi se jemala smrtno resno- , ko začnem napletati o tem, da ti vesolje prisluhne, kakor pač zlata ribica, ki izpolne željo dobesedno, gotovo zavija z očmi, ubogi bebec, ki si jo je zaželel, pa se naslednjih dvajset let tepe po glavi in si očita zakaj hudiča ni bil bolj eksakten, zakaj ni pomislil na vzrok in posledico…
Torej, ja. Ustvarjalnost, kreacija. Zadnje čase sem bolj malo ustvarjala. Kar je spet relativno, saj verjamem, da je ljubezen pravzaprav najvišja oblika ustvarjalnosti. In ker sem bila poleg te najvišje oblike ustvarjalnosti, na drugih segmentih bolj skopa, in ker je jesen, čas, ko se stvari rahlo povlečejo pod lupino, tole pišem. Kot nek izziv lastnemu razmišljanju, ki je bolj megleno, kot sem ga bila vajena. Malce sem morda iz vaje. In ker je pač jesen, sem se danes, prav po škorpijonsko, zavlekla pod kamen, od kjer razmišljam in razčlenjujem razpad stvari v svoji najlepši preobleki in barvah. Kakor rumeni listi, zdaj že napol pomešani in raztopljeni v rjavo, gnijočo monokromnost, tako svet in tako jaz. Če je jesen za večino med in grozdje in kostanj in gobe in mošt in barvitost, je zame moker mah in dež in lišaji, vonj po gnijočem listju, drevesa ki se golijo in premlevanje, utemeljevanje, umirjanje, kamen…. Moj kamen J. Priprava na najtežji del leta, ko se vse ustavi in, ko potrebuješ veliko luči za odganjanje teme… Oyes. Zato smo jesenski ljudje navadno tako »plehki«. In jaz pripravljam prostor, saj nameravam še veliko ustvarjati.
"At no other time (than autumn) does the earth let itself be inhaled in one smell, the ripe earth; in a smell that is in no way inferior to the smell of the sea, bitter where it borders on taste, and more honeysweet where you feel it touching the first sounds. Containing depth within itself, darkness, something of the grave almost."
― Rainer Maria Rilke, Letters on Cézanne